Four Foods to Expand UT Operations
Commercial Property Executive  |  Keith Lori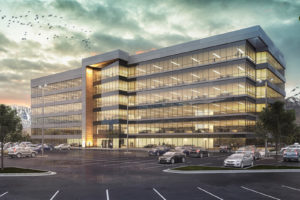 Four Foods Group has acquired five acres of land in Valley Grove, part of a 62-acre master-planned development by St. John Properties in Pleasant Grove City, Utah. The restaurant company will use the parcel to build a new corporate headquarters, as well as a restaurant cluster housing some of Four Foods Group's fast-growing brands, including R&R BBQ. The new dining facility is scheduled to open this July.
"Four Foods Group has been recognized as one of the fastest growing restaurant ownership groups in the country," Daniel Thomas, St. John Properties' regional partner, told Commercial Property Executive. "Having them select Valley Grove for their national headquarters continues to define Valley Grove as the heart of not only Utah County but a great location to conduct national and international business."
A $300 MILLION DEVELOPMENT
Valley Grove represents a large investment of St. John Properties in Pleasant Grove City and is expected to generate more than $800 million in tax revenue to the state, county and city, while hosting more than 7,000 employees.
"Valley Grove is a $300 million legacy development in the heart of Utah County," Thomas said. "Utah County has one of the fastest growing GDP/Capita of any area in the county. Transpiration access to Valley Grove, along with a growing base of diversified amenities, will allow Four Foods Group to recruit and retain the best employees."
According to Thomas, space in existing Valley Grove buildings is quickly being leased by businesses recognizing the development's prized location and value. Jersey Mike's, R&R BBQ and Starbucks have already signed on. "With Valley Grove being central to all of Utah County and directly off Interstate 15, the location is ideal," Thomas said.
https://www.cpexecutive.com/post/four-foods-to-expand-ut-operations/