Valley Grove breaks ground on 62-acre development in Pleasant Grove
UtahValley360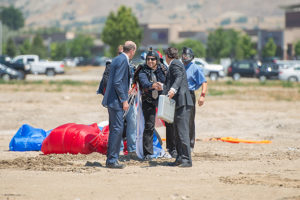 PLEASANT GROVE, UT (August 2, 2017) — Valley Grove is changing Pleasant Grove as we known it. For years, exit 275 has immediately led to open fields, but the new development is promising new sites in the future.
St. John Properties held its official groundbreaking ceremony for the 62-acre development on Tuesday, Aug. 1. Valley Grove already has two office buildings completed and the six-story Grove Tower under construction. That Class A building will cover 192,000 square feet. Ultimately, the development will include six major office buildings, eight different retail sites and 10 additional pad sites.
"I don't get tired of (groundbreakings) because I know it represents the success in our state," said Gov. Gary Herbert. "Good things are happening in Utah as exhibited by what we see here today with this Valley Grove development."
In the two completed office buildings, multiple businesses have already moved in including Whistic, Options Animal, FORTEM Technologies and more. But Daniel Thomas, managing partner of St. John Properties, said at the groundbreaking ceremony that developments like Valley Grove take time. Thomas compared Valley Grove appropriately to a tree, as Pleasant Grove is known as the "city of trees."
"Some things just take time," Thomas said. "And with care you can make them grow tall and strong. This tree isn't just a symbol of me but this tree is a symbol of Valley Grove. We're breaking ground, we're planting little trees. All of us in this room, we're going to take care of this tree, this project."
The $250 million investment of St. Johns Properties is expected to generate over $800 million in tax revenue in the state and host more than 7,000 employees.
Currently, there is only one restaurant under contract, R&R Barbecue, which already has three locations in Utah. The building R&R Barbecue will occupy is not yet completed. Andrew Smith, CEO of Four Foods Group which represents R&R Barbecue, announced at the groundbreaking that the Pleasant Grove location would be the flagship location of the restaurant.
"There are people luring us every day to the Thanksgiving Point area, but I don't think that's the right place to go," Smith said. "Everybody should come down here."
In a dramatic fashion, Coldwell Banker Commercial Advisors (CBC Advisors) Chairman Brandon Fugal announced that CBC Advisors would be relocating its headquarters to Grove Towers, taking nearly 16,000 square feet.
"We are excited to expand our commitment in Utah County and establish our new Class A office in Pleasant Grove, located at the prestigious six-story Grove Tower," Fugal said in a press release. "As the only full service commercial real estate office in Utah County, our 50 professionals and growing offer the most cutting edge market intelligence and will continue tot lead the market from this new location."
Fugal and Herbert signed the contract after the contract was skydived onto scene. After the contract was signed, Herbert talked about the variety of businesses joining Valley Grove.
"Diversification in Utah means that not only are we doing well now, but we're going to do well in the future," Herbert said.
Valley Grove sits just east of the Pleasant Grove Boulevard freeway interchange. Sticking with the "city of trees" theme, Valley Grove will include 2,000 trees in the development.
http://utahvalley360.com/2017/08/02/valley-grove-breaks-ground-knowing-growth-takes-time/