Vision Becomes Reality at the MD 43 Crossroads
Baltimore County Department of Economic & Workforce Development  |  Diana Creasy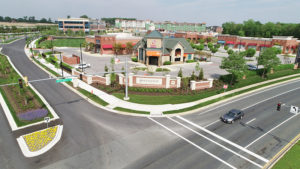 Sitting along Maryland Route 43 in Middle River, Baltimore Crossroads is changing the economic landscape of eastern Baltimore County. One of the Mid-Atlantic's largest mixed-use communities, Baltimore Crossroads offers over 6,000,000 square feet of office, flex, warehouse and industrial space, along with a hotel, retail villages and luxury apartment homes.
Greenleigh at Crossroads, a development inside Baltimore Crossroads, is transforming how Baltimore County citizens are thriving, right in their own neighborhood. Conveniently located along the I-95 and I-695 corridor, Greenleigh at Crossroads is the largest "new urbanism" community in the County, with 1,500 single family homes, townhomes, and luxury apartments, all with easy access to the commercial properties on site. Offices, residences, shops and services are connected by a network of open spaces for more walking, and less driving, creating a more convenient, enjoyable place to live and work. A new, 120 room Marriott SpringHill Suites is now open, offering short and long-term stays for locals and visitors.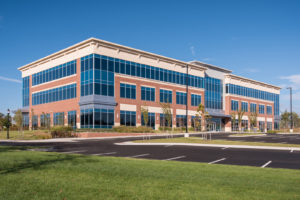 Stanley Black & Decker is adding 400 new jobs in Baltimore County to support the company's growing tool and storage division. The Fortune 500/S&P 500 company is investing $8.5 million to build-out new office space at Greenleigh at Crossroads, with workers already moving to their new Middle River offices.
When Baltimore Crossroads is fully built out, it is expected to attract 10,000 jobs. Stanley Black & Decker, Mary Sue Candies, Danfoss, Pevco, BGE HOME, Atlantic Design, Breakthru Beverage Maryland, and Synagro are just a few of the companies that already have brought jobs to Middle River.
The late Baltimore County Executive Kevin Kamenetz's vision was to turn vacant property zoned for development into an upscale mixed-use community to boost economic development and create jobs. With Greenleigh at Crossroads, developers St. John Properties and Somerset Construction are bringing that vision to reality.