Eisai to take space at Greenleigh at Crossroads in Baltimore County
The Baltimore Sun | Sarah Gantz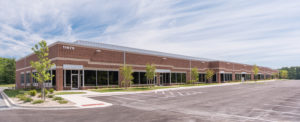 BALTIMORE, MD (September 27, 2017) — Eisai Inc., the United States subsidiary of a Japanese pharmaceutical company, plans to relocate from its Baltimore office to a new facility at Greenleigh at Crossroads in Baltimore County.
Eisai plans to move its 55 Baltimore-based employees to a new 40,000-square-foot space at 11675 Crossroads Circle in 2019, once construction is complete, according to St. John Properties Inc., the developer of the 550-acre mixed use Greenleigh at Crossroads community.
Part of Tokyo-based Eisai Co., Eisai Inc. specializes in pharmaceutical research, development and manufacturing of products to treat dementia-related and neurodegenerative diseases, and cancers.
The White Marsh facility will be used to manufacture and distribute Gliadel, which is used to treat brain cancer.
"This new Baltimore location enables Eisai a seamless transition in its efforts to continue to produce Gliadel for thousands of patients worldwide," said Shaji Procida, president and chief operating officer of Eisai Inc., in a statement.
The company has U.S. headquarters in New Jersey, with additional facilities in Pennsylvania, Massachusetts and North Carolina.
Greenleigh at Crossroads broke ground in 2016 and is expected to include 1,000 detached homes and townhouses, 500 multi-family units, retail and a 120-room SpringHill Suites by Marriott hotel.
The development will also include plenty of office space: three mid-rise office buildings totaling about 300,000 square feet of space, another 443,000 square feet of single-story office space and 827,000 square feet of flex and research and development space.
St. John Properties is working with Somerset Construction Company and Elm Street Development on construction.
http://www.baltimoresun.com/business/real-estate/bs-bz-eisai-facility-20170927-story.html