Kamenetz championed growth, challenged developers
The Maryland Society of Professional Engineers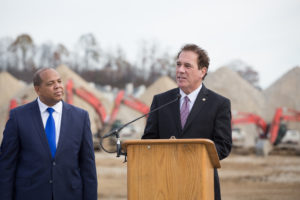 Reflecting on the political career of Baltimore County Executive Kevin Kamenetz, members of the development community described how one life can shape a skyline.
Kamenetz, who died suddenly in May, had been a fierce advocate for thoughtful growth that generated not just construction projects, but also new sources of employment, improvements to the county tax base, and new facilities to enhance residents' quality of life.
And he wasn't afraid to fight for developments that seemed promising, if initially unpopular.
"His approach was preparing Baltimore County for the new economy. He was working on how to transform some of our older communities, our older job sectors into something more reflective of the 21st century," said Aaron Tomarchio, Senior Vice President of Administration and Corporate Affairs for Tradepoint Atlantic.
When the owner of the Bethlehem Steel plant declared bankruptcy, Kamenetz assembled a coalition to explore redevelopment opportunities for Sparrows Point that were not related to the steel industry.
"He did not make friends down here as a result of that," Tomarchio said. "He got criticized pretty heavily and that was understandable because there was a lot of emotion, a lot of legacy connected to that mill."
A vision emerged of transforming the 3,200-acre, 125-year-old steel site into a hub for supply chain distribution, warehousing, logistics and manufacturing. The day that Tradepoint Atlantic bought the property, Kamenetz "was down here within two hours to welcome us and say this is the future," Tomarchio said.
The county executive, he added, went on to be instrumental in helping the redevelopment process. Realizing that county agencies had never before dealt with such a massive and complex redevelopment, Kamenetz formed a working group of senior staff and select specialists that met bi-weekly to anticipate and address project challenges.
Edward St. John knew he was about to face a development challenge the day that Kamenetz and a land use attorney arrived at the offices of St. John Properties for a talk. St. John had recently submitted a request to the county to build 65 townhouses on property off Route 43 which was designated but not entirely suitable for employment-based development. St. John, however, didn't realize the magnitude of the challenge he was about to face.
Kamenetz, he recalled, immediately launched into his typical lecture about the fiscal downsides of residential development – a lecture that St. John could recite by heart. But then Kamenetz pivoted to the topic of Maple Lawn – the highly successful mixed-use development in Howard County – and declared that he wanted St. John to replicate Maple Lawn on 1,000 acres off Route 43.
"I was stunned, absolutely stunned," said. St. John, a partner in the Maple Lawn venture. "This little guy in the back of my head spoke in my ear and said, 'He's lost his mind!' Howard County is the highest income county in the country. Howard County has one of the finest school systems in the country and it put three brand new schools right in Maple Lawn. And he wants me to build Maple Lawn in Middle River?!"
"But I know because of my age that you don't tell a county executive that he's out of his mind. You have to be very diplomatic or you'll never build another thing in the county," he said.
So instead, St. John offered to contract Design Collective to research the land-use potential of the site, thinking "I would let Design Collective tell him he's out of his mind."
Instead, the study concluded the Route 43 land was superior to the Maple Lawn site due to transportation infrastructure and proximity to water amenities. St. John told Kamenetz he would proceed with Greenleigh – a high-density, mixed use development on the site – but only if Kamenetz would "be willing to stand up and take the political heat and back us."
"To the end, he was a man of his word and a stand-up guy," St. John said. "He helped us through all the political meetings with improvement associations, department heads and others."
That decision, St. John said, triggered a "sea change" in the development prospects for Middle River and is delivering 2,000 residential units, 600 acres of employment-based development plus new retail and amenities.
"He was a man of vision and no one else in Baltimore County, including me, had that vision," St. John said.
That vision also helped transform the skyline, streetscape, employment base and lifestyle amenities in Towson.
"Kevin saw Towson as a sleepy town with the potential to be like Bethesda," said Steve Siebel, a Partner with Caves Valley Partners. "He had the courage to see that vision implemented even though he took a lot of criticism for it."
With two universities, three hospitals, the county seat, county courts and multiple, large employers, Towson was a logical site for high-density urban development, Kamenetz had argued. And as county executive, "he used the tools available to him" to facilitate that development, Siebel said. For example, allowing developers to claim some value of revitalization tax credits upfront provided the critical assistance to kickstart several projects, including Towson Square and Towson Row.
That enthusiasm for development, however, didn't mean that Kamenetz automatically endorsed any one project, Siebel said.
"Kevin was opinionated and he wouldn't hesitate to tell you if he didn't like your development. He was also very smart so you couldn't put anything over on him," Siebel said. "When you met with him to explain a project, he would always get out his calculator and start monkeying with it. We were never quite sure what he was doing, but we were lead to believe he was assessing the economics of the project."
In some meetings, the county executive would push a spreadsheet back across the table at a developer, challenging individual numbers.
That attention to detail stemmed directly from Kamenetz's prime development goal, namely "to always grow our tax base," said Will Anderson, Baltimore County Director of Economic and Workforce Development.
In addition to Sparrows Point, Towson and other high-profile developments, Kamenetz worked doggedly behind the scenes to attract and retain employer headquarters in Baltimore County. Those efforts included enticing both JMT and McCormick to build new headquarters in Hunt Valley, helping Stanley Black & Decker to expand in Towson and Greenleigh, preserving CareFirst's headquarters in Owings Mills, and successfully lobbying Sen. Barbara Mikulski to secure $140 million to redevelop the Social Security Administration buildings in Woodlawn.
Kamenetz worked for more than a decade as a council member and then county executive to facilitate badly needed projects in Owings Mills.
"His investment in Owings Mills Metro Center [through a public library and community college campus] really helped stimulate redevelopment of that entire area," said Brian Gibbons, CEO of Greenberg Gibbons. "I think it helped get the mall redone and –between our project, Foundry Row, the mall and metro center – it is really turning Owings Mills into the destination everybody hoped it would be."
Kamenetz, Gibbons added, stood up for the Foundry Row development when it encountered political opposition and even used the project to improve traffic in the area by insisting Greenberg Gibbons add an access road behind Foundry Row.
Kamenetz also rejected some immediate development opportunities in order to secure better options down the road, Anderson said. After Diageo shuttered its bottling operation in the county, assorted developers proposed to buy and demolish the property then down-zone it for housing or light commercial use. Kamenetz rejected those options, insisting the site should find a significant commercial/industrial use. Ultimately, that effort resulted in the current construction of the Guinness Blonde brewery, taproom and tourism destination.
"He never saw development in a vacuum," said County Executive Don Mohler. "He viewed every project as part of the community, and often challenged developers to try something new to add even greater value for residents and businesses."
Kamenetz, he added, "also recognized the importance of balancing development with environmental stewardship. Baltimore County was one of the first jurisdictions in the country to implement smart growth, before the term was widely used. He respected the distinct urban and rural character of the county… A Kevin Kamenetz speech often would remind the audience that 90 percent of the county's population lives on one third of its land. This meant that in the more urban, densely-zoned areas of the county, every new development – and increasingly re-development – took on added responsibility."