UMD celebrates College Park Academy's opening in Riverdale Park
The Diamondback | Jack Roscoe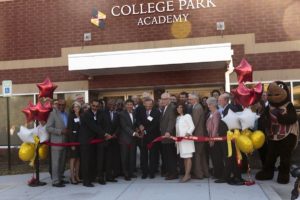 COLLEGE PARK, MD (October 4, 2017) — The College Park Academy, developed through a collaboration with the University of Maryland and St. John Properties, celebrated the grand opening of its new Riverdale Park facility Tuesday with a ribbon cutting ceremony.
The charter school accepts students through a lottery system and provides college preparatory classes in a blended learning curriculum — the only one of its kind offered in the county, said Bernadette Ortiz-Brewster, the academy's executive director.
The school currently has more than 500 students, according to the state of Maryland.
Since the academy was established in 2013, it has operated out of St. Mark's Church on Adelphi Road, said Sen. Jim Rosapepe, the academy's founding chair and member of its board of directors.
"It was good for a startup school, but they just outgrew it," said Clifford Green, senior director of strategic partnerships at Pearson, a partner of the academy that helped design its blended learning curriculum.
The education company has partnered with other blended learning schools, as well as online and brick-and-mortar schools in the past, Green said, adding that the difference between the old "jam-packed" facility and the new one is "stark."
University President Wallace Loh, current academy chair and member of the its board of directors, said there is "no comparison" to the old building.
"This is more than just a building, is what you should realize," Loh said before the ceremony. "College Park Academy should be the model for all schools in the county."
The academy represents the new model of education that will replace 50-minute classroom lectures, Loh said. Gesturing toward the academy's seven student ambassadors — some wearing Maryland flag-patterned bowties like Loh — he said the next generation of digital natives will expect blended learning in higher education and will find it at this university's new Edward St. John Learning and Teaching Center.
At the academy, teachers lead students' core classes in person using online learning resources, such as e-books. Instructors virtually teach elective classes, but an adult known as a success coach is present in the classroom to monitor the course.
Smart TVs and wheeled desks will be present in every classroom, and students carry computer bags instead of book bags, Rosapepe said.
This university's partnership with the academy comes in many forms, Loh said. University students studying engineering, music and classics volunteer at the academy, which gives the students role models and promotes inclusion, he said.
"My hope is this becomes a pipeline to the university," Loh said.
Loh said the academy is an example of this university's commitment to diversity and inclusion.
Edward St. John, founder of St. John Properties, said the average cost for a school built by the state is about $20 million, but it took St. John Properties about $10.2 million, $150,000 less than its budget.
"You all got this school for about fifty cents on the dollar," St. John said, prompting a loud round of applause from Rosapepe.
The academy's new facility was built in less than a year, St. John said, and construction for the building began several months before this university officially signed a construction lease, he added.
The Edward St. John Foundation financially supports formal education programs up to the high school level, because education gives students the tools to succeed in life, St. John said.
Prince George's County Public Schools Superintendent Kevin Maxwell said because this university invested in his education, he had the opportunity to become the superintendent of his hometown school district.
"Our children are the ones that benefit from the work we come together to do," he said.
http://www.dbknews.com/2017/10/04/college-park-academy-riverdale-opening/