Laser and satellite tech firm to move from Columbia to College Park's Discovery District
Baltimore Business Journal  |  Melody Simmons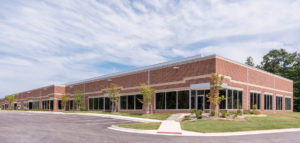 A high-tech mapping and chart company that focuses on laser and satellite technology has signed the first lease in a new office park in the Discovery District in Prince George's County.
IIC Technologies Inc. is moving later this year from Columbia to College Park. It will expand into 5,000 square feet in a new flex office complex being developed by St. John Properties.
The company currently leases space at 5550 Sterrett Pl. near the Columbia town center.
IIC Technologies also has offices in Canada, Australia, India and the U.K. The College Park office will be located at 5600 and 5650 Rivertech Ct., close to the Purple Line of the Washington Metro, which company offfnaiopicials said was a plus in their leasing quest.
The Discovery District at the University of Maryland was highlighted in one of 238 applications from across the U.S. that were sent to Amazon.com in October seeking to lure the internet retail giant's second North American headquarters to the area. A decision on finalists for the HQ2 is expected to be made in the coming months from the Seattle-based company.
"Moving to The Discovery District will bring us closer to key customers such as NOAA, NGA and the USACE," said Gerd Glang, IIC Technologies director, in a statement. "We anticipate this move helping us to establish a relationship with the advanced technologies incubating from University of Maryland, as well as the other information technology, research companies and government agencies located within the Discovery District."
Other tenants in the district include the Earth Science Interdisciplinary Center, the Food and Drug Administration Center for Food Safety and Applied Nutrition and the UM-Pacific Northwest National Lab Joint Global Change Research Institute.
St. John Properties has developed close to 160,000 square feet in the 150-acre Discovery District campus near College Park.
The company developed the 52,680-square-foot office space at 5600 Rivertech Ct. A second development at 5650 Rivertech Ct. by St. John totals 57,120 square feet. Office space developed by the Baltimore developer at 5751 Rivertech Ct. totaling another 50,170 square feet is totally leased by the College Park Academy.
"The Discovery District offers an unparalleled environment for companies closely connected to academia and research, and the business community's presence immediately adjacent to the University of Maryland provides critical advantages to end-users," said Richard Williamson, senior vice president at St. John, in a statement.
"The amenity package fulfills every business and employee need including The Hotel at the University of Maryland, featuring complete conference facilities, as well as walkable retail such as Whole Foods and restaurants at all price points. As build-out continues, the business community is quickly approaching a critical mass of companies and employees to create a one-of-a-kind, thriving mixed-use environment."
https://www.bizjournals.com/baltimore/news/2018/01/08/laser-and-satellite-tech-firm-to-move-from.html