University of Maryland Debuts Discovery District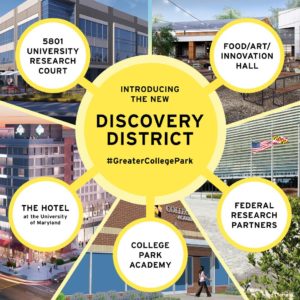 UMD Right Now | Katie Lawson
COLLEGE PARK, Md. (February 2, 2017) -– The University of Maryland debuts today the Discovery District, encompassing more than 150 acres that stretch from Baltimore Avenue to the research-rich and metro-accessible community along River Road. Discovery District will be the epicenter of academic, research and economic development as home to the research park formerly known as M Square, and will feature amenities like The Hotel at the University of Maryland and a unique food, arts and entertainment experience envisioned by Scott Plank of War Horse Cities.
"In the Discovery District, our faculty, students, and businesses will work to turn knowledge into jobs," said University of Maryland President Wallace D. Loh. "The District's facilities and amenities will quicken the pulse of research, innovation, and learning, creating economic and social benefits for Maryland and beyond."
The Discovery District is a key piece of the University's Greater College Park initiative, a $2 billion public-private investment to rapidly revitalize the Baltimore Avenue corridor and academic campus. The Discovery District will strengthen existing research partnerships, retain a pipeline of talent locally and offer more experiences for residents, faculty, staff and students.
"Through public and private partnership, the university is expanding its footprint for innovation and entrepreneurship, and we are proud of the role that The Hotel at the University of Maryland will play in serving and contributing to the Discovery District," said David H. Hillman, CEO, Southern Management Corporation.
The majority of UMD's Discovery District is made up of the university's former research park, which includes 130 acres dedicated to innovation—housing leading research organizations in environmental and earth sciences, food safety, agriculture policy, language and national security.
UMD and Corporate Office Properties Trust ("COPT") (NYSE: OFC) have a long-standing partnership that has attracted a breadth of top research-oriented tenants. Notable tenants within the Discovery District are the National Oceanic and Atmospheric Administration ("NOAA") Center for Weather and Climate Prediction, the U.S. Department of Agriculture's Animal and Plant Health Inspection Services, and the Food and Drug Administration's Center for Food Safety and Applied Nutrition. In addition, University partnerships such as the Earth System Science Interdisciplinary Center, the Joint Global Change Research Institute, and Center for Advanced Study for Language all call UMD's Discovery District home.
Discovery District also borders Riverdale Park Station, a mixed-use development featuring 120 townhomes and a Whole Foods Market that is set to open in spring 2017. Additionally, UMD has partnered with St. John Properties to construct 110,000 square feet of research and development space and a 45,000-square-foot building to house College Park Academy, a public charter school, that will open in fall of 2017.
Most recently, COPT has commenced construction on a new 75,000-square-foot multi-story office building tailored to meet the needs of organizations focused on research and technology and who value location in UMD's vibrant, mass-transit served Discovery District. A new pop-up park with food trucks, creative seating areas, games, trails and art installations, as well as access to the amenities of the new Riverdale Park Station, will give Discovery District employees and visitors easy access to spaces to relax and eat.
"We are thrilled to be part of the Discovery District, and honored to continue our successful partnership with the University of Maryland," said Stephen E. Budorick, President & CEO, COPT. "With world-class academics and research, as well as the new amenities that the Discovery District has to offer, we are well positioned to attract the area's top businesses and organizations to College Park."
The Hotel at the University of Maryland, slated to open in summer 2017, anchors the Discovery District. The employees of research agencies, start-ups, and the university community will have access to four restaurants housed in the $180 million luxury hotel, which will serve as the region's premier venue for meetings and events. Additionally, UMD will have leasable space in the Hotel for private-sector companies that seek to partner with and serve UMD faculty and students. Nearby will be UMD alumnus Scott Plank's concept for dining, arts, entertainment, teaching kitchen and performance space to further support the area's start-up culture.
To learn more about the Discovery District, visit https://go.umd.edu/5v2.
https://www.umdrightnow.umd.edu/news/university-maryland-debuts-discovery-district