TierPoint to open second Baltimore-area data center near BWI
Baltimore Business Journal  |  Ryan Sharrow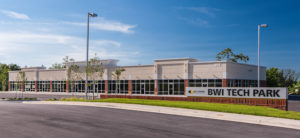 BALTIMORE, MD (August 29, 2017) — TierPoint LLC plans to open a second Baltimore-area data center, piggybacking off an expansion last year of a facility near M&T Bank Stadium.
The new 35,000-square-foot data center will be located at the BWI Technology Park, a 97-acre project developed by St. John Properties off Interstate 295 and Nursery Road.
St. Louis-based TierPoint plans to invest $10 million into the project. The data center is expected to open in spring 2018.
Jim Weller, a vice president and general manager at TierPoint, said the expansion allows the firm to meet the demand of a "rapidly growing number of information and cybersecurity firms in the BWI corridor."
TierPoint has 40 data centers in 20 U.S. markets.
The company completed a 3,000-square-foot expansion of the Baltimore facility in the fall, bringing the building to 30,000 square feet. The company said at the time was considering a further expansion in the local market.
The Baltimore data center is located 1401 Russell St.
https://www.bizjournals.com/baltimore/news/2017/08/29/tierpoint-to-open-second-baltimore-area-data.html?ana=e_bal_real&s=newsletter&ed=2017-08-29&u=yM9XQELV9VoTS97qpSaubQ0f8b296a&t=1504023043&j=78759201