'Surban' developments address key employment, lifestyle, transportation needs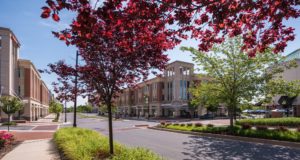 The development proposal left Ed St. John sitting in stunned silence. Then Baltimore County Executive Kevin Kamenetz had come to his office to discuss St. John Properties' proposal to build 65 townhouses on a site off Route 43. Unenthused by the prospect of another townhouse development, Kamenetz proposed an alternative: create a Maple Lawn-style development instead.
"I was stunned, absolutely stunned," St. John said in a later interview. "This little guy in my head said, 'He's lost his mind!… He wants me to build Maple Lawn in Middle River!"
St. John and his development partners, however, investigated the prospect and ultimately embarked on developing Greenleigh at Crossroads — a high-density, mixed-use project designed to create nearly 2,000 residential units, 600 acres of employment-based development, and extensive retail and amenities.
"Without that bold thought, I don't think Greenleigh would be what it is today," said Sean Doordan, Senior Vice President of Leasing and Acquisitions at St. John Properties. "The density of residential development allowed us to create the epitome of a live-work-play environment. Without that, we wouldn't have been able to deliver the same level of amenities and I'm not sure we would have been able to attract Stanley Black & Decker to locate in Greenleigh."
Urban-style developments on suburban sites — or 'surban' projects — satisfy multiple, major trends in America today. They address growing demand for smaller but nicer homes that require less maintenance, and desires to live in walkable communities that include retail and recreation. In a full-employment economy and amid tough competition to attract talent, surban developments answer employers' needs for attractive locations that are easily accessible and highly amenitized. The high-density, mixed-use communities, often located beside major highways or transit stations, also address governments' needs for smart growth projects that don't exacerbate transportation problems.
"We have had unlimited, unbridled demand for new, nice, mixed-use sites. It's really where people want to be," said Neil Greenberg, Chief Operating Officer of Somerset Construction Company. Somerset has been part of the development team for multiple surban projects, including Greenleigh, Arundel Preserve and Annapolis Junction.
Creating a successful surban project, however, challenges development teams to imagine and successfully execute new concepts. They have to recognize new opportunities on sites that are commonly dismissed as bedroom communities along commuter routes. They may have to alert employers to the benefits of locating their offices at the far end of a subway line. And during the course of development, they have to overcome some hefty challenges.
High-density, mixed-use, surban developments "take a lot of money up front because you have to come out of the ground with a lot of stuff quickly … You have got to make a big bang," Greenberg said.
Simultaneously developing commercial, residential and retail space as well as delivering above-average landscaping, walking trails and other amenities is essential to attracting residents and commercial tenants. But it can be difficult, even impossible, to turn a profit on all those early components.
In the midst of the recession, Somerset embarked on a hotel development because it was seen as a core component of the town center at Arundel Preserve.
"We built a major, full-service, four-star hotel … with multiple high-end restaurants that we had to heavily subsidize. It was a loss leader for a long time," Greenberg said. The hotel, however, became "the most luxurious, highest occupancy, highest rate property in a 35-hotel market and it became the heart of the community."
Developers also have to orchestrate that rapid, multi-faceted development in a way that enables tenants to thrive.
At Greenleigh, "some of the early retailers struggled because we didn't have sufficient rooftops," Doordan said.
"Now that the density is being created, a lot of second-generation space is in extreme demand. The takeaway is that you have to time everything appropriately so that all the various asset classes are successful."
That investment and planning, however, can generate opportunities for employers to attract the kind of talent they need and for employees to achieve the kind of lifestyle they want. Greenleigh — located beside a desirable and diverse workforce in White Marsh, Middle River, Dundalk and Essex — has attracted a wide array of businesses that currently employ 8,000 people on-site.
Meanwhile, Maple Lawn in Fulton has been attracting employers, especially high- tech companies, at a rapid rate.
Set on 600 acres beside Route 29 and the Inter-County Connector, the planned community will ultimately have 1.2 million square feet of commercial space, 120,000 square feet of retail plus high-density housing within easy walking distance.
In announcing plans to move his company's headquarters from Montgomery County to Maple Lawn in late 2019, medical software company MagView CEO Bryan Chapin said, "[we] believe Maple Lawn will significantly improve our ability to recruit and retain employees."
"If I had more land to continue building flex buildings at Maple Lawn, I would absolutely do it," Doordan said. "We have been extremely successful … and commanded very strong rents. That's a byproduct of the ecosystem created there with quality amenities, quality workforce, quality housing and excellent access to highways."
Surban developments are even creating some uncommon, even counterintuitive, opportunities to attract young talent and grow businesses.
Located on former parking lots for a Baltimore subway station, the Metro Centre at Owings Mills development will ultimately include 1.2 million square feet of office space and 300,000 square feet of retail as well as 1,700 residences, a public library, community college campus and a 225-room, full-service Marriott International Hotel.
Like other surban projects, Metro Centre has ready highway access. A ramp from Interstate 795 leads directly into Metro Centre so "you can get to my site from downtown Baltimore without hitting a single traffic light," said Howard Brown, Chairman of David S. Brown Enterprises.
But the subway station further heightens the development's accessibility, convenience for employees and potential to attract young talent.
"Young people still want to live in Baltimore City. With the subway connection, they can live in the city and ride out here to work in 15-20 minutes," Brown said.
Some large employers elsewhere in Owings Mills already run a shuttle service to carry their employees to and from the subway. Meanwhile, retailers at Metro Centre have the opportunity to serve the 3,000 commuters who pass through the subway station daily.
Although Maryland has been slow to embrace transit-oriented developments, Brown argues that high-density, mixed use surban developments attached to transit will be key to handling population growth, fueling economic growth and addressing transportation challenges in Greater Baltimore.
Originally published in January/February 2020 NAIOP-MD InSites.