New Marriott hotel opens in White Marsh
The Baltimore Sun | Meredith Cohn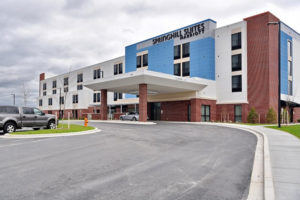 Marriott Springhill Suites has opened at Greenleigh at Crossroads, a 1,000-acre mixed-used development in White Marsh.
Middle River Hotel Partners LLP developed and owns the four-story, 120-room hotel. It is being managed by USA Management II Inc.
The overall development, by St. John Properties and Somerset Construction has been years in the making, and several building are underway at the site, including a four-story office building, slated to open next year, and two single story office buildings and two single-story retail buildings expected later this year.
"Baltimore Crossroads has grown exponentially over the last several years and the recent real estate elements introduced to Greenleigh at Crossroads are perfectly suited to support the long-term needs of a hotel," said Tom Lee, president of USA Management II and a partner with Middle River Hotel Partners.
In all, Greenleigh at Crossroads will consist of 1,000 single-family homes and townhomes, 500 multi-family units, three mid-rise office buildings, single-story offices, flex/R&D space and retail space.
Black & Decker said earlier this year it signed a lease for one of the buildings and plans to move 400 jobs to the property.
http://www.baltimoresun.com/business/bs-bz-bz-marriott-in-white-marsh-20180423-story.html