Greenleigh at Crossroads expands with new 120-room hotel
Baltimore Business Journal  |  Melody Simmons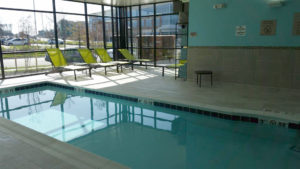 A 120-room hotel is the latest addition to the Greenleigh at Crossroads in White Marsh and the property — set to officially open on Monday — already has 500 reservations.
Marketing manager Rebecca Lee said Friday the Springhill Suites by Marriott will welcome its first guest at 3 p.m. The hotel has 30 full- and part-time employees, an indoor gym, a business center, bar, breakfast nook and a lap pool. It's located near a new office building that recently inked a lease with Stanley Black & Decker for 400 new jobs in 92,000 square feet of new office space in the community.
"The vision is becoming a reality," said Richard Williamson, senior vice president for St. John Properties, a partner in the development team of Greenleigh.
During a tour of the hotel on Friday, Williamson said the project is expanding again. Besides the Springhill Suites, a second 100,000-square-foot office building just broke ground. That is located near several new single-family dwellings that are under construction and the Berkleigh, a 317-unit apartment development by Bozzuto expected to open in June.
Greenleigh is a 1,000-acre, $750 million project by St. John with partners Somerset Development Corp. and Elm Street Development Inc. off of Route 43. When built out, the project will hold 2.5 million square feet of new commercial space including office, warehouse, industrial and retail. A total of 1,000 single-family homes and townhomes and 500 apartment units are also underway.
The $17 million Springhill Suites will serve as a gateway hotel to Greenleigh. Located just off of Route 43 and off of Interstate 95, the property is four stories and has modern suites for short or long-term stays, Lee said. It offers a complimentary breakfast buffet every morning and a comfortable lobby area, close to existing retail.
"There is a need for a hotel here," she said, as workers put finishing touches on the lobby and installed flat-screen televisions in each room.
Lee added that her husband Tom, president of USA Management II Inc. and a partner with Middle River Hotel Partnership, LLP which owns the hotel, first visited the Greenleigh area a few years ago and saw the need for lodging. He owns other Springhill Suites in Winchester, Virginia, and Bedford and Carlisle, Pennsylvania, she said.
"He came out here and said, 'you need a hotel,' " she said.
Added Lee, in a statement: "The business community already offered a critical mass of businesses and employees…more than 200 business exist within the immediate area. There were more than 90,000 civilian arrivals at Martin State Airport last year."
https://www.bizjournals.com/baltimore/news/2018/04/23/greenleigh-at-crossroads-expands-with-new-120-room.html