St. John Properties moves into Austin, Texas, with plans for more growth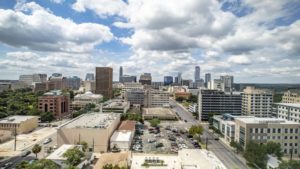 Baltimore Business Journal | Melody Simmons

St. John Properties has opened its ninth U.S. location as it looks to get a piece of the hot technology market in Austin, Texas.

The addition allowed the Woodlawn-based company with assets of over $4.5 billion to grow into another national market, this one next to its existing Louisiana office. It also follows St. John's 2014 expansion into Utah where it has added more than 1.7 million square feet of new office and flex space in four business communities near Salt Lake City.

In addition to Maryland, Louisiana and Utah, St. John also has offices in Pennsylvania, Virginia, Wisconsin, Nevada and Colorado.

The commercial real estate firm's foray into the booming Austin market will focus on spec building for the area's tech and life sciences industries that have attracted giants like Tesla Inc., Facebook, Apple, eBay, Dell, IBM and Indeed. Other corporate offices there include GM, Home Depot and Whole Foods.

"We will be out looking for business in Austin," said Larry Maykrantz, St. John's CEO, in an interview last week, of the quest to grab a piece of the hot central Texas market. "If Utah is our most recent indicator, it will be a very strong and successful market."

Site Selection magazine last year named Texas as the U.S. leader for corporate relocation and expansion projects — and Austin itself was ranked fourth. The Austin metro area is poised to grow at a mega-pace with the new jobs, local officials recently predicted.

And Tesla (NASDAQ: TSLA) last fall announced it will move its headquarters to Austin from Palo Alto, California in 2022. The electric car maker is opening a factory in Austin this year that could produce up to 100,000 vehicles in 2022, with the potential to manufacture 500,000 vehicles annually when at full capacity.

The Austin market will be headed by Brooke Harlander, a newly-minted partner at St. John Properties who has completed the firm's four-year, in-house partnership training program. Harlander did market research as part of the program and selected Austin as a focus for the 51-year-old company's next expansion.

"We have found an interesting thing: More of our annual development is coming from our out-of-state projects," Maykrantz said. "And we will be expanding into many other states in the next decade."

That further expansion will be staffed by new partners as well, Maykrantz said. Last year, the company said its goal was to double its portfolio to 40 million square feet of commercial, residential and office space across the U.S. by 2036. There are currently six partners in training in the program that will help, Maykrantz said.

"They do the research as part of the program and give us their perception of where they want to go and why. We have many states that we hope to be in and will wait until we have a partner fully trained in order to do so," he said.

Growing in the Maryland market has been "more difficult and restrictive from a legislative standpoint and the availability of land," he added. That is one reason for St. John's move to branch out across the U.S. into states with generous incentives and available land.

Maykrantz said St. John is planning to expand by 880,000 square feet of new spec commercial, flex and light industrial development this year, some in Maryland's submarkets like Annapolis, Baltimore County and Frederick.

The company's ongoing projects to build the 466-acre Melford Town Center in Bowie will continue to shape up and 381 new apartment units will be added at the Greenleigh development in Middle River — all despite sharp rising costs in construction materials and oil and supply chain woes.

"Everyone is hoping some of this will pull back this year," Maykrantz said.