SpringHill Suites underway at new Greenleigh development in White Marsh
Baltimore Business Journal | Melody Simmons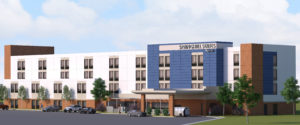 Baltimore, MD (February 14, 2017) — A 120-room SpringHill Suites by Marriott broke ground on Tuesday at the 1,000-acre Greenleigh at Crossroads in White Marsh.
The hotel is among the first commercial offerings in the $750 million "modern urban village" being built from scratch by St. John Properties Inc. in the eastern Baltimore County suburb.
Also on Tuesday, building permits for the first townhomes and villas to be built as part of the residential component of the massive development were issued by Baltimore County, said Mike Caruthers, president of Somerset Construction, a partner in the project.
David Murphy, a vice president with Elm Street Development, said builders Ryan Homes and NV Homes will build the townhomes that will list starting in the mid-$300,000 range.
"We're hoping to have the models ready for the spring selling season," Murphy said. "The first homes will deliver and have the first residents begin to move into the community later this year."
The townhomes will be built around a community area that includes a large community green as a focal point. In that area, a community center, fitness center, Olympic-size pool, picnic areas and walking paths among the amenities, Murphy said.
"Things that really bring the community together and establish a place," Murphy said. "We plan to begin to install these this year…to convey the image of what Greenleigh will be for prospective home buyers."
A clubhouse will also begin construction this year for delivery in spring 2018.
Greenleigh is located just off of Interstate 95 along Route 43. The development will hold a total of 1,500 residential units, both single family and apartments when built out and 128,000 square feet of retail space and 428,000 square feet of office space.
It is designed to replicate Maple Lawn in Howard County, a 600-acre mixed-use community by master developer, Greenebaum Enterprises Inc. St. John is a partner in that project.
Richard Williamson, a St. John senior vice president, said Tuesday the hotel is expected to be ready in 2018.
http://www.bizjournals.com/baltimore/news/2017/02/14/springhill-suites-underway-at-new-greenleigh.html