Redefining the Wasatch Front
Design Develop Construct Journal | Winter 2017 Issue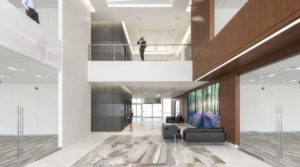 A commercial park is adding valuable space to a community just outside Salt Lake City, Utah.
St. John Properties is developing a landmark commercial project that will forever change the suburb Pleasant Grove, Utah, which is conveniently located between Salt Lake City and Provo.
Valley Grove is a 62-acre, mixed-use development that will improve the infrastructure of Pleasant Grove and promote further development in the fast-growing area. It will include a considerable amount of Class A office space, retail and a hotel.
The development will also help bring more jobs, tax revenue and other opportunities to the city of Pleasant Grove.
"It's an investment upward of $300 million into what has been largely a bedroom community." says Daniel Thomas, Regional Partner at St. John Properties. "People are excited to see that coming to their front door."
DEVELOPING FOR LONGEVITY
Utah County, which includes Pleasant Grove, is one of the most dynamic markets in the United States. The team at St. John Properties believes it is a region that will continue to see long-term, sustainable growth.
"It just happens to be one of the fastest-growing counties not only in Utah, but also in the nation, from a population standpoint." Thomas says. "Any place where you are adding mouths to feed and cars on the road, it's really good for commercial development."
Pleasant Grove is located along one of the region's primary north-south arteries. Interstate 15. Because of the region's steadily growing population, the demand for retail services and commercial space is stronger than ever.
"These are services those people are going to need." Thomas says.
The project will also include several noteworthy environmental initiatives. Every office building at Valley Grove development will be designed to meet LEED® standards.
Building a project that will not contribute to the region's notoriously troubled air quality was one of St. John Properties' primary concerns.
"The U.S. Green Building Council just put out several studies and numbers on LEED buildings and their impact on air quality," Thomas says."'More than 73 percent of U.S. electricity consumption actually comes from buildings. In addition to 39 percent of American [carbon dioxide] emissions."
The stringent environmental standards implemented by St. John Properties will cut roughly 35 percent of the emissions compared to buildings not designed to the LEED guidelines. The development will also honor Pleasant Grove's city tagline billing it as "Utah's City of Trees."
"Our project, upon completion, will have more than 2,000 trees." Thomas adds
WORKING WITH THE COMMUNITY
St. John Properties is working extensively with Pleasant Grove city officials to ensure that Valley Grove provides the region with the vital space and services it needs.
"We spent quite a bit of time with the city planner, the mayor and the council trying to understand what their vision was for what is honestly going to be the front door of their community," Thomas says.
The firm also worked with the city to ensure that Valley Grove will help provide the city with additional municipal revenue.
"They had a real strong desire for retail because a lot of municipal funding here in the state of Utah is driven by sales tax," Thomas says.
The firm has been working diligently to plan ahead to successfully meet the transpiration needs that Valley Grove will spur.
"When you put up a million square feet, you've got to make sure that people can get in and out without congestion," Thomas says. "We have been working tirelessly with multiple stakeholders to make sure that the transpiration infrastructure stays ahead of the needs so that we are not scrambling to keep up."
Some of the organizations St. John Properties has partnered with include the Utah Department of Transpiration and the Pleasant Grove Departments of Planning and Public Works.
The office space will also provide the city with an enticing, modern gateway.
"The city was excited to see some more vertical development with office product," Thomas says. "It gives their front door some appeal."
In addition to construction Valley Grove and its relevant transpiration infrastructure, the company also financed a renovation at the Pleasant Grove Public Library.
"We are helping them bring the library up to ADA standards," Thomas says. "Its's something they've wanted to do for the past five to seven years, but just never has the funds available to do it."
As St. John Properties continues its work on Valley Grove, one thing is evident — the firm is clearly living up to its mission of being a positive citizen of the Pleasant Grove community.