Pleasant Grove's St. John Properties named top business for its Valley Grove development
Daily Herald | Karissa Nelly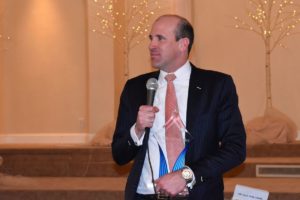 St. John Properties, the developer behind Pleasant Grove's massive master planned development known as Valley Grove, took home the Pleasant Grove-Lindon Chamber of Commerce's top honor Thursday.
St. John Properties earned Business of the Year during the chamber's awards banquet Thursday .
"The presence that St. John Properties has had in Pleasant Grove has been tremendous," said Dan Taylor, chamber member. "The beautiful building they have built next to our BMW store, is going to bring so much economic growth to the area. Being the beautiful, amazing work of art that it is, it is going to set a precedent for future businesses to look to for how they want to build."
Daniel Thomas, managing partner of St. John Properties, said he was humbled by the honor because of the caliber of the other finalists for the same award: Tabitha's Way, Rock Canyon Bank and Saratoga Jewelry Co.
Other awards that day went to Dustin Cook, marketing lead at Servpro of North Utah County and former chamber president, for Business Person of the Year. McNeil Printing earned the New Business of the Year award. Jake Hoyt, Lindon city councilman and a chamber board member, earned the President's Award for his work this past year helping to combine the two cities under one chamber. Melissa Allmon, a teacher at Valley View Elementary earned the Educator of the Year, and Mike Carter of Tabitha's Way earned the chamber's Community Service Award.
"All these businesses and individuals have contributed greatly to our community — beyond what is asked of them," said Josh Walker, president of the chamber.
Lindon Mayor Jeff Acerson awarded the Lindon Mayor's Award to WICP Commercial Properties, the developers behind the $200 million mixed-use development, Mountain Tech Center, which features 650,000 square feet of Class A office and industrial space spread over 10 buildings. The project sits in Lindon on the west side of the Pleasant Grove Boulevard freeway interchange, and when complete, the development will be a nice bookend to the Valley Grove project to the east.
The Pleasant Grove Mayor's Award went to Taco Amigo, a staple on Pleasant Grove's State Street since 1980. The eatery is owned by the Gary and Deanne Keetch family, who were not able to be present for the award because they were attending Elder Von Keetch's funeral.
"They've been one of our greatest employers of young people in our community," said Pleasant Grove Mayor Guy Fugal. "Our hearts and prayers go out to the Keetch family."
In tandem with St. John Properties' win Thursday, the company also announced new tenants for the Valley Grove area. Four Foods Group is making good on their promise to expand in Utah County by closing on land for R&R Barbecue's sixth location. Four Foods Group also has further plans to relocate their corporate offices this year to Valley Grove.
Jersey Mike's Subs has also signed a lease and committed to opening a store this quarter in Valley Grove. In addition, Valley Grove has executed letters of intent and is finalizing leases with Starbucks, Verizon Wireless and Thai Land restaurants.
"We are so pleased to be in the heart of Utah County in the fastest growing state in the nation," said Brad Giles, vice president of acquisitions and development for Four Foods, in the announcement. "St. John Properties is great to work with and the near freeway access of Valley Grove has growth and economic well-being written all over it."
http://www.heraldextra.com/business/local/pleasant-grove-s-st-john-properties-named-top-business-for/article_b470e336-d0ee-5500-88cb-6b5f26346708.html