One of Greater Baltimore's fastest-growing companies will relocate, expand in Anne Arundel County
Baltimore Business Journal | Melody Simmons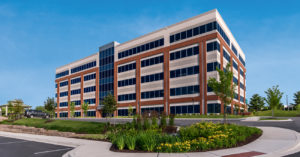 A fast-growing company that mines for analytics that lead to automated marketing robocalls is expanding its footprint in Anne Arundel County and planning to add up to 135 new workers in the next three years.
CallTrackingMetrics just signed a lease to move into 25,000 square feet of new office space at 231 Najoles Road in the I-97 Business Park owned by St. John Properties.
The private company is currently based at 877 Baltimore Annapolis Blvd. in Severna Park, but has plans to triple its workforce to 200 employees by 2025, CallTrackingMetrics officials said on Wednesday. CallTrackingMetrics made the Baltimore Business Journal's List of the fastest-growing companies in the region last year, with $18.52 million in revenue in 2019 and three-year growth of 22.67%.
"This corporate relocation was precipitated by our consistent and expected growth as we continue to win new clients, our desire to elevate employee collaboration and the quest to establish a community-driven workplace," said COO Laure Fisher in a statement. "As we return to the office in a hybrid schedule, we have decided collectively that our office needs to be designed to maximize collaboration."
CallTrackingMetrics has developed a system to gather data and other analytics for clients during incoming customer calls. That data is then used by clients to craft certain marketing and advertising messages to offer during automated phone calls.
So far, more than 100,000 users in the U.S. and internationally have used data from CallTrackingMetrics for marketing and sales. The 10-year-old company will move into an entire floor of the five-story Class A office building in Millersville by December, Fisher said.
Lacey Johansson of St. John Properties represented the landlord and Matt Melnick of Cushman & Wakefield represented CallTrackingMetrics in the deal. The I-97 Business Park has a total of 13 office and flex/R&D buildings that hold just over 500,000 square feet. The suburban business hub is located near Interstates 97, 695 and 95.