Michael Tait of St. John Properties Elected to NAIOP Maryland Board of Directors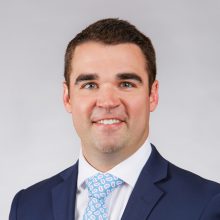 Baltimore, MD – Michael Tait, Leasing Representative for St. John Properties, Inc., has been elected to the Board of Directors of NAIOP Maryland. The local trade association, which has more than 400 members and represents the interests of the commercial real estate industry throughout the state, is part of NAIOP, a network of approximately 55 chapters in North America. NAIOP Maryland is comprised of commercial real estate development companies and professionals engaged with affiliated service companies including the architectural, brokerage, construction, interior design and legal industries.

Tait is responsible for the leasing of commercial office and flex/R&D space throughout St. John Properties' portfolio in Anne Arundel and Harford Counties. This includes identifying clients seeking to establish a real estate presence or expand an existing location in the local area, handling lease negotiations and working with existing clients on lease renewals. He has nearly 10 years of business and commercial real estate experience and has also worked for The Howard Hughes Corporation and CoStar Group.

Tait was also recently named Chair of the NAIOP Maryland Developing Leaders group, which is comprised of commercial real estate professionals aged 35 years or under, and sponsors events throughout the year to accomplish both networking and educational objectives. Activities include building tours of recently-completed commercial office, mixed-use and industrial/warehouse projects, as well as presentations by highly-recognized commercial real estate veterans who provide insights into the industry and career advice. The Developing Leaders group currently has approximately 400 members.

"My involvement with both NAIOP Maryland and the Developing Leaders program has provided me the opportunity to spend quality face time with leaders in commercial real estate, build valuable relationships in my peer group, and significantly expand my knowledge of the industry," explained Michael Tait. "The Developing Leaders group is the recognized future of NAIOP Maryland, and many past members hold leadership positions within the organization, including President. Leading the program and becoming involved on the board are career-defining opportunities and, together with my working committee, we intend to positively impact the industry and advance the careers of our members."

"Michael is known for his passion and success in the commercial real estate industry and, at St. John Properties, he has the unwavering support from a high-profile company recognized for their long-term support of our Chapter," stated John Hermann, President of NAIOP Maryland.

For additional information visit www.naiopmd.org.