Ed St. John calls national NAIOP award one of developer's 'greatest achievements'
Baltimore Business Journal  |  Melody Simmons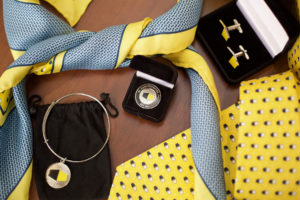 St. John Properties decked out its workforce of nearly 200 with matching scarves, charm bracelets, ties and cuff links to celebrate NAIOP's national "Developer of the Year" award.
The 47-year-old commercial development giant supplied the bright yellow swag and an early morning bus ride from Woodlawn to the Marriott Wardman Park in Washington, D.C., Wednesday to celebrate together.
"This is one of our company's greatest achievements," said Edward St. John, the no-nonsense 80-year-old founder.
St. John has overseen development of 19 million square feet of office space, retail and warehouse space as the company's assets have climbed to $2.9 billion. In addition, St. John Properties has partnered in large projects like Maple Lawn in Howard County and Crossroads at Greenleigh in Middle River.
St. John is also a leading philanthropist in the state, having awarded the University of Maryland a $10 million gift to build a new learning center in College Park in 2011.
As the celebration rolled out this week, St. John gathered and feted the company's original partners and senior executives at the Jefferson Hotel Tuesday evening and directed a video production of the company's history.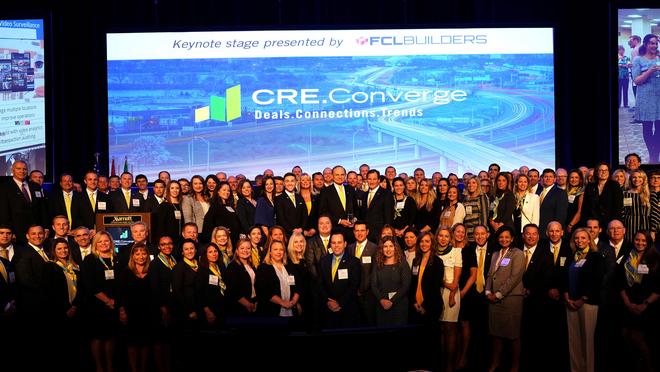 In a brief interview this week, he talked about the award — the first in NAIOP's Maryland chapter — and his legacy.
Looking back on the company's progress over the years, could you name a turning point?
Developing the flex/R&D product that became the foundation of the portfolio was the turning point for the company. After the flex/R&D building, we moved into building single-story and two-story office, and then retail buildings. Within the last 20 years, we have been developing multi-story Class 'A' office, mixed-use communities such as Greenleigh at Crossroads and Melford Town Center and luxury residential apartments.
What does this award mean to you as founder, and to the senior leadership team?
We are extremely humbled to receive this prestigious honor. This award is the most prestigious recognition for the real estate development community. Never would I have imagined that the small company that I started in 1971 would have grown into the company that it is today.
You're including the entire workforce in your award and celebration. Why?
I believe in hiring the best and brightest professionals to work for our company. It is because of our employees, and their commitment to excellence that they practice every day, that we achieved this great honor.
How has the company impacted the Baltimore metro area with its developments over the years?
Our goal is to provide commercial real estate for our clients to support their business needs. As our clients' needs have grown, we have grown. We now have more than 14.5 million square feet of space across the Baltimore-Washington metro and expect to add more than 1 million square feet in 2019.
What was your first project and how is it doing today?
My first project was Stafford Business Center in Baltimore City, which was built when Leroy Merritt and I were partners from 1966-1971. We still own that project today and it is 100 percent leased.
What's next for St. John Properties?
We will deliver products that will serve our clients' commercial real estate needs now and for the years to come. Through a 'Partner-In-Training Program' we will expand our portfolio across the country and expect to open new regional offices in the near future.