St. John Properties: Developing with a Long View
NAIOP Development Magazine  | Fall 2018  |  Ron Derven
Development_Fall_2018
---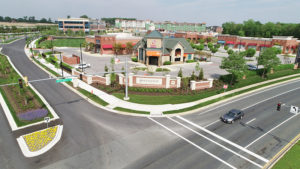 Listening to clients and employees has resulted in consistently high occupancy rates for this Maryland-based CRE developer.
The people at St. John Properties don't just talk about a commitment to excellence, they practice it every day. A founding principle that permeates the DNA of the 180-person Maryland-based company is its focus on the long term when it comes to development, tenants, investors, buildings and the communities in which it works.
Launched in 1971 as Maryland Industrial Enterprises (MIE) by its chairman, Edward St. John, the company started with the construction of a single industrial building. Forty-seven years later, it owns more than 19 million square feet of office, flex/R&D, retail, warehouse, gaming and residential assets valued at $2.6 billion. The company serves 2,100 tenants (referred to as clients) at 150 projects located across eight states, including Maryland, Colorado, Louisiana, Nevada, Pennsylvania, Utah, Virginia and Wisconsin. Its portfolio is expected to grow to more than 20 million square feet by the end of 2019.
The company initiated a corporate sustainability program in 2009 that has earned it the U.S. Green Building Council LEED certification on 43 buildings, representing more than 2.3 million square feet of space across the portfolio. Nearly every new building now developed is slated to earn LEED certification, with 29 buildings totaling more than 1.8 million square feet pending certification.
In addition to its commitment to the environment, St. John Properties is dedicated to supporting the communities in which it does business. Its chairman established a nonprofit foundation whose philanthropy is exceptional. To date it has gifted more than $60 million.
"The Developer of the Year honor is the Holy Grail for us," states Chairman St. John. "Never in my wildest dreams did I think that we would receive this award. My employees and I are so proud of the company that we have built and what we have achieved."
"Stop This Flying Foolishness"
St. John was exposed to commercial real estate at an early age. When he was age 16, his father died and left the family with a small manufacturing company, a small distribution business and five 10,000-square-foot industrial buildings. Two of the buildings were occupied by the family businesses and three were leased to other tenants.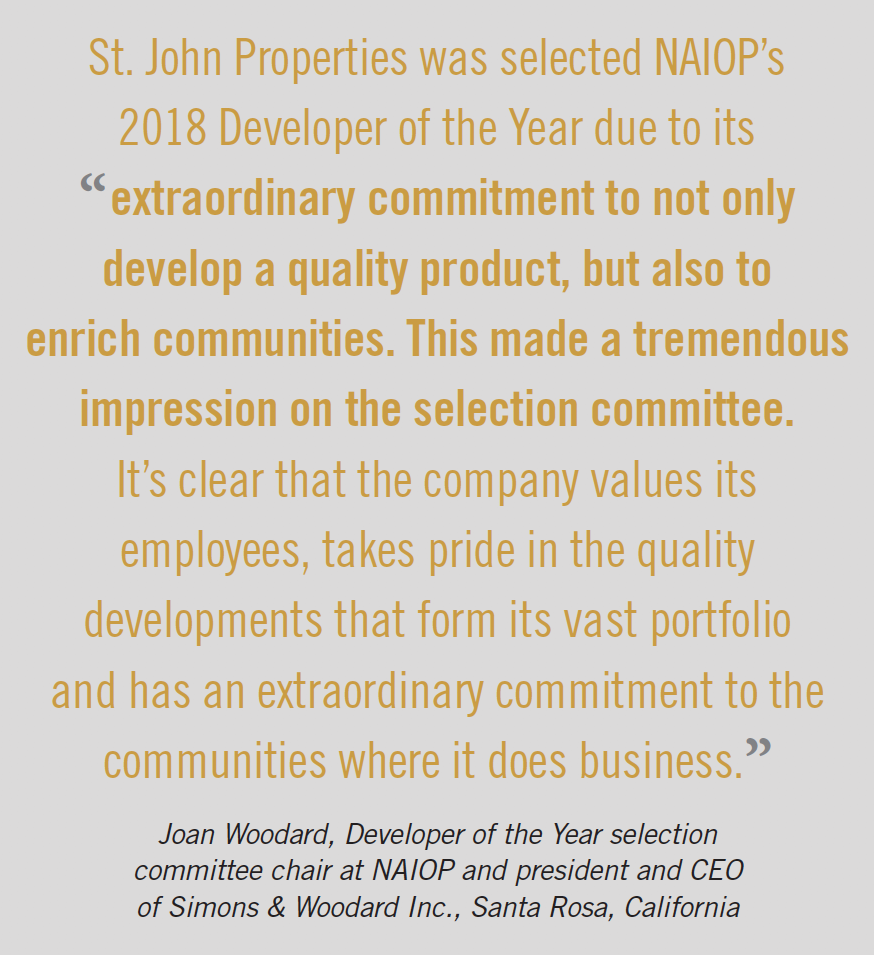 St. John, however, wanted to be a test pilot. Upon graduating from high school at age 17, he was accepted into the second class of the U.S. Air Force Academy in Colorado. After further consideration, he decided to go to the University of Maryland, major in electrical engineering and join the Air Force ROTC, which would still enable him to become a test pilot.
"In my senior year in college," recalls St. John, "my mother came to me and said: 'If you don't stop this flying foolishness, I'm going to sell all the businesses.' I decided to get involved in the family businesses after graduation. I quickly learned that I didn't like manufacturing, and I didn't like distribution; but I loved the real estate part of it – talking to tenants and even taking care of the roofs."
After several years of managing the five buildings that his father had built, totaling 50,000 square feet, St. John wondered if he could build and lease industrial buildings as a business. He didn't know how to develop a building at the time, so he looked for a local builder with whom to partner. In 1966, he formed a partnership with a man named Leroy Merritt.
"Leroy taught me how to build," explains St. John, "and I taught him what to build. We constructed 500,000 square feet of industrial space together over five years in the 1960s." St. John says that the industrial buildings of the day were painted block with railroad tracks at the back of the structures. After five years, the men split up the partnership and divided the buildings, and each started his own company.
Flex/R&D Development in Maryland
St. John does not take credit for inventing the flex/R&D property type, a structure that can accommodate both office and industrial uses, but he does claim to have been the first to develop such a property in Maryland. "I built my first industrial building in Columbia, Maryland," he notes. "It was a typical industrial building with metal trim at the top. It was a front-loader, which meant there was an entrance door at the front with an 8-foot to 10-foot drive-in door. Trucks were parked out in front of the building with railroad tracks in the back."
He successfully leased his new building and planned his second one at the location. A tenant at the first building with whom he had become friendly told St. John that he [the tenant] spent more time at the industrial building than he did at his own home and that he would like a better-looking building in which to work. He asked St. John why he didn't install landscaping and plant a lawn in front and put the trucks in the back, among other things.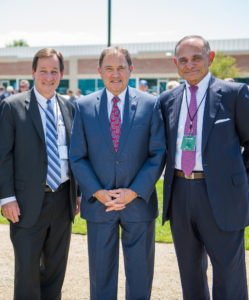 After listening intently to what the tenant wanted, St. John redesigned the typical industrial building, which became his business practice for the next 47 years. He installed a small office component, brick facade, large windows, a lawn and landscaping in front and moved the loading to the back. The market loved it, and the building leased quickly. If imitation is the highest form of flattery, then St. John was indeed flattered by other developers who started to build a similar product in the market.
At first, these flex/R&D buildings were 5 to 10 percent office and 90 to 95 percent warehouse or industrial space. As time passed, tenants wanted a different configuration: the office component grew at first to 25 percent and then from 70 percent to 80 percent, in some cases.
"It became clear to us that there was a need for one-story office [buildings]," says St. John. So he moved into developing one-story office structures in addition to flex/R&D. The buildings were actually quite similar in design to the flex/R&D, with the front and the back looking the same, but more suitable for office uses.
Although St. John Properties made its mark with the introduction and perfection of flex/R&D in Maryland, it has continually expanded into other products as the market and tenants have demanded. From flex buildings, the company moved to one- and two-story office structures and then on to multilevel office buildings and large-scale developments. Where retail space was once added to building lobbies to service existing tenants, the development of retail space became a separate division at St. John Properties as the company's highly compact and efficient business parks – containing one to five buildings – were expanded to become mixed-use, multifunctional business communities.
Following its expanded office and retail mix, St. John Properties incorporated residential uses as integral parts of its communities. For example, at its Greenleigh at Crossroads project in Middle River, Maryland, it responded to a request from the late Baltimore County Executive Kevin Kamenetz to include residential in what had originally been designed as predominantly
office, industrial and retail space.
At its Melford Town Center in Bowie, Maryland, where it has already constructed more than 1 million square feet of office and flex/R&D space, St. John Properties has responded to requests for affordable residential products. The company rezoned the project to include up to 1,800 residential home sites, apartments and senior living units.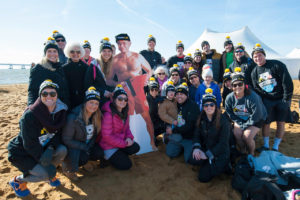 St. John Properties is vertically integrated and is proud that no third party gets between it and its tenants. When tenants speak to a property manager, they know they are speaking to St. John Properties. This customer-centric approach has helped the company maintain a portfolio-wide occupancy rate of 90 percent. Its founder's focus on listening to the tenant has become formalized into company policy  over the years with two staff people dedicated to interviewing all of the tenants in the portfolio once a year.
The company finds the interview process so important that it has taken it a step further and also interviews all of its employees annually, using a list of about 10 questions. "We interview every one of our employees on how they are feeling about the company, about their job and about how their supervisor is treating them," says St. John. St. John said that he used to conduct the interviews himself when the firm had only 25 employees.
St. John has a passion for excellence and focuses on surrounding himself with the very best people. He explains: "Everybody who stays with our company for four to five years or longer is the best there is, or they don't stay. It's just the atmosphere around here; everybody is very good at what they do."
Build Speculatively Every Year
Unlike most developers, St. John Properties builds speculatively every year – year in, year out – delivering roughly between 300,000 and 1 million square feet of space. Interestingly, the company generally does not offer build-to-suit development options. "Build-to-suits just slow us down," explains the chairman. In 2018, the company developed and broke ground on 1.2 million square feet of speculative space from its Maryland headquarters. It has also begun to develop or construct 600,000 square feet in other markets for a total of 1.8 million square feet of multi- and single-story office, retail, flex/R&D and residential space. For 2019, St. John Properties expects to add an additional 1.3 million square feet of space.
How Projects Are Developed
St. John Properties' development sweet spot is the 50-acre site, although the company will go down to 25 acres or up to 200 acres for the right location. Like everything else about the company, its projects' size must satisfy the company's focus on the long view: it wants projects that it can build out over seven to 10 years – not the in-and-out 5-acre, single-building project.
When St. John Properties finds a site it likes, its architectural and engineering team puts a design together, and then the company's leasing agents scrutinize it. "Our leasing people tell us what to build," says St. John, "because they are the ones who have to lease the space."
Once the concept passes muster, the land goes under contract, usually with a 90-day window to conduct due diligence. After clearing the land for purchase, St. John Properties makes a substantial payment on the contract with the stipulation that it has 18 months to obtain a building permit.
St. John Properties initially builds two speculative buildings on the property. When those buildings become 50 percent occupied, work begins on the next two buildings. If a market or economic downturn occurs, and the first two buildings are not yet 50 percent leased, the company stops building at the site until market conditions change.
Expanding into New Markets
Responding to growth opportunities across the country, St. John Properties has created an innovative Partner-in-Training program that educates qualified individuals interested in development on every aspect of commercial real estate development. The program takes four years to complete, and trainees are mentored in every area of commercial development, including site selection, acquisition, development, design, construction, leasing, marketing and property management, according to the company. In addition to this rigorous training, trainees must obtain a Master of Business Administration or a Master of Science in Real Estate during the four-year period. On successful completion of the program, graduates are sent to a region of the country where St. John Properties sees major growth opportunities. Program participants have come from both inside and outside the company. Four individuals have completed the program, and three are currently enrolled.
Financial Consistency and Stability
Although St. John Properties has never defaulted on a loan in its 47-year history, it has been tested time and again through numerous downturns in real estate and economic cycles. Three tough lessons the company learned in the 1980s and 1990s, however, helped it to navigate the recession of 2008 successfully and put it on its current growth path, according to St. John Properties president Lawrence Maykrantz.
The toughest lesson the company learned in the recession of 1991 was never to use lines of credit to finance real estate. Maykrantz says that banks began issuing lines of credit to real estate companies in the early 1980s. Three banks furnished St. John Properties with lines of credit totaling $90 million. When the recession of 1991 hit, the three banks consolidated into one; that institution told St. John Properties that it did not want anyone to have a $90 million line of credit – so the company needed to pay the money back. St. John Properties paid the bank $30 million in the first year and the remainder in the second year, but vowed it would never again use a line of credit in its business.
A second important lesson was never to be "liquidity poor," especially going into a recession. After struggles in the 1980s and 1990s during recessionary periods, the company resolved to create a giant war chest for the bad times. Over the next decade, it created a $100 million stockpile at the corporate level and a $50 million reserve for capital improvements at the property level. When the recession of 2008 took hold and banks were not lending, St. John Properties had its war chest. With this cash on hand, the company was also able to make some strategic real estate acquisitions, which positioned it well for the years after the recession.
Spacing out loan maturities so that few loans come due at one time was another lesson from previous recessions. "We have 150 projects and 150 separate partnerships," says Maykrantz. "Each project has its own independent source of financing. When we put a loan on a project, we look at all loan maturities going out. Traditionally, with our type of projects, banks or life companies lend at terms of anywhere from 10 to 20 years, with 25-year amortizations. Accordingly, we methodically look at each and every loan and position its maturity."
Looking Ahead at Commercial Real Estate
One of St. John's key tasks at the company is to continually look ahead at what may be coming in the commercial real estate industry. Currently, the company is watching two potential areas of change.
The first is the fevered pitch of data center development. St. John says that he is astounded by the number of data centers being constructed in Northern Virginia. He questions the sustainability of ever-increasing land valuations and the long-term utility of many of the purpose-built data center buildings. "Land prices have skyrocketed at a rate that I have never encountered in my life," he explains. "We don't know what technological advances are just around the corner with regard to data storage and computing. Things are evolving so quickly that storage technology could change in an instant." St. John, who takes a long view on all buildings he develops, believes that continued advances could make many data center buildings functionally obsolete in the next 10 to 20 years.
Parking ratios is the second area of focus for St. John, who cites a current movement. Although more employees work from home, many still come into the office. Those who do come in use space much more efficiently and compactly, which means buildings need more parking spaces per square foot of office space. However, St. John foresees the rapid development of driverless cars over the next few years. While he thinks that people will want to own and drive exotic or collectible cars, St. John believes  most people will find it far cheaper to commute by driverless car, which will mean less demand for parking. He envisions that, once the driverless car drops the employee off, the vehicle will be sent on another assignment. At this point, however, St. John Properties has not begun to decrease the number of parking spaces it builds.
---
Commitment to Philanthropy
Many real estate companies are good corporate citizens in the markets where they work, but by any measure St. John Properties is in a philanthropic class by itself.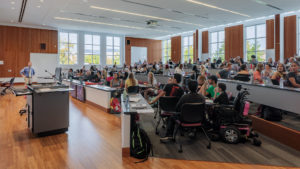 In 1998, company chairman Edward St. John formed the Edward St. John Foundation. St. John Properties donates 7.5 percent of its net profits each year to the foundation, and 100 percent of the funds donated each year go back into the community that same year. To date, the foundation has gifted more than $60 million. The Baltimore Business Journal has repeatedly ranked St. John Properties as one of the Baltimore area's top corporate philanthropists. In 2017, the company was ranked eighth and placed sixth and seventh between 2014 and 2016.
Sharon Akers, vice president of corporate relations and executive director of the foundation, says the foundation's main focus is on education – particularly the transformative power of education to change lives and strengthen communities. The most notable contribution that St. John has made to date is to his alma matter, the University of Maryland, College Park. The university recently constructed the 187,000-square-foot Edward St. John Learning and Teaching Center. The facility encourages a new way of teaching that focuses on collaboration and problem-solving between students that is facilitated by instructors. The whole experience moves away from traditional lectures by faculty. The building has 12 classrooms and nine teaching labs, serving more than 12,000 students per day, and it acts as a national model of collaborative learning and teaching, according to Akers.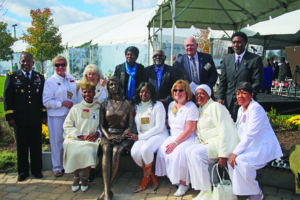 Another example of the company's extraordinary generosity took place at The GATE, an office and technology park developed on Aberdeen Proving Ground (APG) in Aberdeen, Maryland. St. John Properties learned of the tragic death in August 2014 of Maj. Gen. Harold Greene in Afghanistan. The general had served at APG before his deployment to Afghanistan and was the highest-ranking officer killed offshore in combat since the Vietnam War. Wanting to honor the general and other fallen heroes along with their families, St. John Properties commissioned local artists to create a special tribute to the general. In September 2015, the Fallen Star Memorial at APG was dedicated. In October 2016, a second sculpture was dedicated at the memorial to honor Gold Star Mothers and Gold Star Families for their immense sacrifices.
Numerous other examples highlight the company's philanthropy. Akers said the foundation has a program that matches dollar for dollar the amount that an employee gives to a charity up to a certain limit. She said that employees themselves are extraordinarily generous with the time they devote to community programs. According to Akers, this past year employees donated 7,400 hours to community work and board memberships.
---
Commitment to NAIOP
St. John Properties is a strong supporter of NAIOP, which it views as the nation's leading commercial real estate trade association. Edward St. John is a founding member of NAIOP's Maryland Chapter, which was established in 1985 and currently has more than 400 members. St. John Properties hosts monthly chapter meetings at its headquarters in Baltimore.
St. John Properties is one of three major financial contributors to the chapter's "Penny per Square Foot" fund, which supports the NAIOP Maryland Legislative Committee and acts as a unifying voice and lobbying force for both NAIOP Maryland and its sister chapter, NAIOP DC | MD. The legislative committee tracks bills, enacts strategy on relevant legislative issues and represents the general legislative interests of commercial real estate companies in the state.
Twenty-six employees of St. John are currently members of NAIOP; three executives are members of NAIOP chapter boards.
Richard Williamson, senior vice president of leasing and marketing, currently serves on the board of NAIOP Maryland.
Thomas Pilon, senior vice president of development, currently serves as public affairs chair, NAIOP Maryland.
Matt Holbrook, regional partner, Northern Virginia and Central Maryland, currently serves on the board of NAIOP Northern Virginia.
"You cannot do it all yourself," says St. John. "That's why we support NAIOP all the way and in any way we can. We attend every function, and we always have at least two people involved at the board level every year."