Maryland alternative fuel company growing, moving to Owings Mills
Baltimore Business Journal | Morgan Eichensehr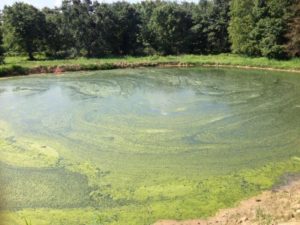 BALTIMORE, MD (March 20, 2017) – A local renewable energy firm has raised $1.7 million and is taking on space in Owings Mills to expand its efforts to transform algae into commercial crude oil products.
Two-year-old Manta Biofuel aims to produce a clean alternative to petroleum crude oil by growing and harvesting algae in local ponds. The company is currently working on prototype equipment for its three-step production process, said Onur Unal, co-founder at Manta Biofuel.
First, the Manta team grows and harvests the algae, using a prototype harvester designed to remove the algae from water very cheaply. Once the algae has been collected, it is put through a high-temperature, high-pressure conversion process to transform the biomaterial into crude oil. The intent is for that crude oil to then be used commercially in materials like gasoline for cars and other fuel-dependent technologies.
Prototypes used for each step are nearing their final design, Unal said, and now the company is working on optimizing the process to try and produce large numbers of barrels fairly quickly.
Manta is not the first company to work on algae-to-oil conversion, Unal said, but the company's methods and technology are unique and potentially more cost effective than others have been. Traditionally, biofuels have been difficult to commercialize because costs of production are too high.
Average cost of production for Organization of the Petroleum Exporting Countries is about $20 per barrel using crude oil drilling techniques, Unal said. By comparison, renewable crude oil production costs can range at about $45-$50 per barrel. And despite being cheaper, oil drilling is much more abrasive to the environment
"We know this production method is better. It's more sustainable, better for the environment, but it's not profitable," Unal said. "So we set out to solve the cost challenge."
Manta is taking on that challenge using technology invented by co-founder Ryan Powell of the University of Maryland Center for Environment Science. His technology will hopefully allow Manta Biofuel to manufacture the crude oil very cheaply, at about $20 per barrel, Unal said.
"Essentially, we'd use same the same processes to produce and sell all oil products people already know, but we'd be replacing the source of the products with a renewable, cleaner version," Unal said. "So people could have same cars, use the same gas stations, but the oil they'd be pumping is greener."
To accommodate growth efforts, Manta took on 2,400 foot space at 11438 Cronridge Drive, in Owings Mills. The company is backed by $1.7 million in funding, raised from several sources including Maryland Technology Development Corp. and UMD. And Unal said it is looking to raise another $1.5 million in private capital to help support growth. The Owings Mills space will allow the company to purchase more equipment, grow production efforts and scale up in-house research and development.
Manta Biofuel has five full-time employees now and will bring on a few more people in the coming months. But as long as the company is pre-revenue, Unal said it will try to remain "lean" as far as hiring.
By next summer, the company expects to start introducing its product to the local market and sell it as fuel oil, which is used in things like commercial heating or fuel burning on large ships. And by 2020, it wants to be selling to a refinery on much larger scale, Unal said.
"In the meantime, we just to increase awareness about what we do because there is quite a bit of skepticism out there," Unal said. "The bottom line is, we are passionate about the environment, and our product could help reduce U.S. dependence on foreign oil. These are important problems that we're trying to solve."
http://www.bizjournals.com/baltimore/news/2017/03/20/maryland-alternative-fuel-company-growing-moving.html