Cyber firm led by former NSA chief raises $78 Million
Our Maple Lawn client IronNet Cybersecurity was featured in this Baltimore Business Journal article on Technology:
Baltimore Business Journal | Morgan Eichensehr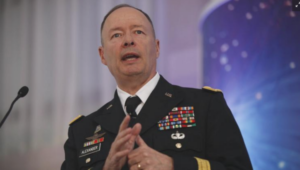 IronNet Cybersecurity, a firm led by former National Security Agency Director Keith Alexander, has announced a $78 million Series B fundraising round.
That brings the Fulton company's totaling funding to more than $110 million, following a $32.5 million Series A round raised in 2015. The most recent round was led by United Kingdom-based firm C5 Capital, and joined by existing investors, Silicon Valley venture capital firms ForgePoint Capital (formerly Trident Capital Cybersecurity) and Kleiner Perkins Caufield & Byers.
The new funds will be used to continue development of four-year-old IronNet's security products and add customers. The company has gained some traction with large customers in the energy and financial sectors, and is especially looking to grow in the financial and health care sectors. IronNet did not disclose how many customers it is currently working with. It also hopes to expand internationally in areas including Europe, Asia and the Middle East.
Jamil N. Jaffer, vice president for partnerships and strategy at IronNet, said the firm will continue to expand its 150-person staff, and hiring for several positions including coders, engineers, cyber experts, sales and marketing professional and product developers.
This is one of the largest single-round raises a Maryland cyber firm has seen. Other firms that have raised notably large Series Bs include Columbia's Tenable, which raised $250 million in 2015 and is now reportedly planning an initial public offering, and Baltimore's ZeroFox, which raised $40 million last year and has also voiced plans for a future IPO.
Jaffer said IronNet is more "laser focused" on continuing to hone its technology and better serve a growing customer base, than on potential exit plans now.
Alexander said in a statement that the new investment represents "a clear endorsement" of IronNet's technology and strategy.
"It is apparent to all of us that the threats enterprises face will continue to evolve in a way that traditional solutions are not able to cope," Marcos Battisti, managing partner of C5 Capital, said in a statement. "IronNet's platform is the only scalable solution in the market providing a truly holistic protection to today's constant and ever-changing attacks."
Don Dixon, founder and managing director of ForgePoint Capital and member of the IronNet board of directors, also noted the addition of C5 to the investor group could help the company with its international growth goals.
IronNet's technology uses data analytics and advanced computing tools to help companies identify cyber threats in real-time and take action against them. It also provides collective defense opportunities, by sharing threat data across multiple companies.
https://www.bizjournals.com/baltimore/news/2018/05/10/cyber-firm-led-by-former-nsa-chief-raises-78-m.html?ana=e_ae_set1