Marriott-Slaterville to get new business park as demand surges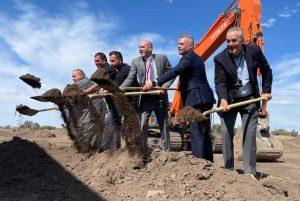 MARRIOTT-SLATERVILLE — As the local economy expands, industrial space is at a premium, limiting expansion in the sector.

Of some 50 million square feet of industrial space in Weber and Davis counties, just 1.6% is vacant, according to Chris Roybal, head of the Northern Utah Economic Alliance, which promotes economic development in the two counties. "That's how tight our industrial market is," he said.

Now, though, comes at least a little relief. Reps from developer St. John Properties last week ceremoniously broke ground on a planned 19-acre business community near the Interstate-15/1200 South crossing in Marriott-Slaterville on ground where alfalfa once grew.

The planned development — dubbed the 12th Street Exchange — is apt for office, warehousing, retail, some manufacturing, light industrial and more. The project is one of several launched by St. John in Utah.

The Baltimore, Maryland-based firm has a portfolio around the country worth about $4.5 billion and measuring approximately 22 million square feet, according to Daniel Thomas, the St. John regional partner in Utah.

"About $1 billion of that is in Utah and that's just been in the last six to seven years," he said last Thursday at the Marriott-Slaterville ceremony. "We're just getting started. There's a lot of opportunity here."

St. John's other Utah properties are in Pleasant Grove, Springville and Taylorsville. The new one in Marriott-Slaterville, spurred by strong economic growth along the Wasatch Front, is the first for the firm in Weber County. The company plans to invest around $50 million in the project, which will tentatively feature around 170,000 square feet of space spread across five buildings. The first structure should be done by late 2023.

The Marriott-Slaterville property, when complete, won't likely draw the heavier industrial clients of places like Business Depot Ogden in Ogden or the Freeport Center in Clearfield, both of which are much larger than the St. John project. Thomas envisions light industrial, research and development and other less-intense uses, tapping into the ability to adjust the space clients seek at the new location to their specific needs.

"It's more office up front with warehouse in the back," Thomas said.

The front of the development will feature two retail spaces that could potentially house restaurants or offices. Roybal suspects smaller firms seeking perhaps 10,000 to 40,000 square feet will use 12th Street Exchange, less than the 100,000 to 200,000 square feet clients sometimes seek in larger places.

Val Hale, former executive director of the Utah Governor's Office of Economic Development, tasked with spurring business growth in the state, was on hand for last week's ceremony. "What is happening here is exciting. It's amazing to see the continued growth all along the Wasatch Front," he said.

Roybal doesn't think St. John will have any major problems in filling the new space in Marriott-Slaterville. "We need to continue to have a place for companies to call home," he said, because if Weber County doesn't develop the space, companies will look elsewhere.