Kevin Kamenetz will be honored with public park at new Greenleigh development
Baltimore Business Journal |  Melody Simmons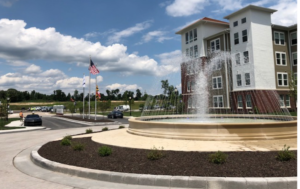 The late Baltimore County Executive Kevin Kamenetz will be memorialized with a public park soon to be the centerpiece of the 1,000-acre Greenleigh at Crossroads development in White Marsh.
The 61-year-old Kamenetz died of a heart attack on May 10 while he was in the midst of campaigning for the Democratic nomination for governor.
His memory was honored Wednesday as more than 340 people gathered at Greenleigh off of Route 43 in eastern Baltimore County to mark what was close to the halfway point in the $750 million development. His widow, Jill Kamenetz, attended the event but did not speak as executives from St. John Properties, Somerset Construction Co. and Elm Street Development lauded the vision needed to turn a former trailer park into an upscale mixed-use development to rival Maple Lawn in Howard County.
Edward St. John, chairman of St. John Properties, said Kamenetz instructed him and others to "go bold" in the design and scope of the plans.
Greenleigh has well over 100,000 square feet of office space, and several retail shops and restaurants, dozens of single family homes and townhouses and a 317-unit apartment development, the Berkleigh, which opened in late May. A $17 million Spring Hill Suites by Marriott opened in April and earlier this year, Stanley Black & Decker started to move 400 jobs into 92,000 square feet of office space.
"When he first told me what he wanted here, I sat there and thought, 'you want Maple Lawn in Middle River? You must be out of your mind," said St. John, during a ceremony to mark Greenleigh's progress. "I have come to praise Kevin Kamenetz. This truly is a celebration of Kevin's vision into reality."
St. John said after the event that a large park would be dedicated to Kamenetz and hold a statue of the late county executive.
County Executive Don Mohler, Kamenetz' former chief of staff who will serve out the remainder of his term through December, said Kamenetz deserves credit for his vision.
"There is no doubt in my mind he is here with us today," Mohler said. "He's here. He's smiling down and would be very proud."
Greenleigh at Crossroads is expected to attract 10,000 new jobs to the White Marsh and Middle River area in the coming five years. When built out, the project will hold 2.7 million square feet of flex and warehouse space, 750,000 square feet of office space and 200,000 square feet of retail.
St. John said the overall value of the property would be $1.5 billion in three or four years and that it would generate about $15 million to Baltimore County annually in property taxes.
https://www.bizjournals.com/baltimore/news/2018/06/06/kevin-kamenetz-will-be-honored-with-public-park-at.html