St. John Properties Announced as Winner of the Most Creative Deal Award in Frederick County's 2019 Frederick Real Estate Dealmakers Awards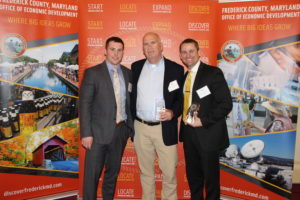 The Frederick County Office of Economic Development recognized the most impactful commercial real estate deals of 2018 last evening. The third annual Frederick Real Estate Dealmakers (FRED) Awards, hosted by OED and FRED Champion sponsor NAIOP Commercial Real Estate Development Association, honored the most successful commercial real estate transactions and projects of 2018 – and the people who made them happen.
In addition to project awards, special recognition was given to those commercial real estate professionals who stood out in 2018 with their achievements as Emerging Dealmaker of the Year, Broker of the Year and for their overall contributions in a Lifetime Achievement Award.
"2018 was a very successful year for business and job growth in Frederick County. Commercial vacancy rates are low, unemployment is low, and the number of jobs in the county hit an all-time high at more than 102,000. That success depends on strong partnership with those we recognized tonight – the businesses making investments, and the real estate and development teams that work hard and take risks to deliver quality commercial spaces," said Helen Propheter, director of the Frederick County Office of Economic Development.
Any lease, sale or financing deal signed during 2018 or any new construction or renovation delivered in 2017 was eligible for an award. The nominations crossed all commercial real estate disciplines from retail and industrial to office. The impacts on Frederick County's economy were considered as well as complexity and creativity of the projects.
Award winners were:
Deal of the Year
Kite Pharma Project
Kite Pharma · CBRE · Deloitte · Natelli Communities· Rodgers Consulting
Most Creative Deal
Wilcoxon Sensing Technologies Project
Wilcoxon Sensing Technologies · Clagett Enterprises · St John Properties · Ellison & Benjamin Architects
Modern Masterpiece Award
The Firehouse Project
Ruppert Properties · Fitzgerald Realty · Waynesboro Construction · Archive Design
Broker of the Year
Tony "C" Checchia, VCRE
Emerging Dealmaker of the Year
Brandon Cannon, Ruppert Properties
Lifetime Achievement Award
Jonathan Warner, Warner Commercial
Sponsors of the evening's event included: Champion sponsor – NAIOP Commercial Real Estate Development Association; FRED Leader sponsors – Miles & Stockbridge, Frederick Magazine, Sandy Spring Bank, Woodsboro Bank, Morgan-Keller Construction, Frederick County Bank and the City of Frederick Department of Economic Development; FRED Supporters – CoStar Group, Adtek Engineers, Washington Gas, Potomac Edison, and Specialized Engineering.
For more information about the Frederick County Office of Economic Development and the FRED Awards, please call 301-600-1058 or visit www.discoverfrederickmd.com/fredawards.