St. John Properties Receives MDSPE 's Corporate Legend Award
Maryland Society of Professional Engineers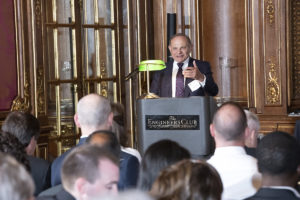 (Hanover, MD. September 24, 2019) – MDSPE presented the Annual Corporate Legend Award to St. John Properties for the company's significant contributions to the engineering profession. Founder and Chairman Edward St. John accepted the award at a ceremony September 19 at the historic Engineer's Club.
During its 48-year history, St. John Properties' portfolio has grown to 20 million square feet of real estate consisting of class 'A' office, flex/R&D, retail, warehouse and residential units.
The company's real estate investments are currently valued at more than $3 billion, with 2,200 clients across eight states, including Maryland, Colorado, Louisiana, Nevada, Pennsylvania, Utah, Virginia and Wisconsin. The company has more than 190 employees.
"St. John Properties is one of the Mid-Atlantic's largest and most successful privately-held commercial real estate firms committed to the goals of efficiency and sustainability." said James Mirabile, MDSPE President. "Mr. St. John is an outstanding businessman and philanthropist who has helped Maryland grow over many years."
St. John Properties is a vertically-integrated real estate developer. Site selection, acquisition, development, design, construction, leasing, marketing, financing, and property management are all managed in-house. The company utilizes value engineering and state-of-the-art construction techniques in creating all of its commercial and residential products.
"I believe my degree in engineering provided the educational foundation for my success," St. John told attendees. "Engineering teaches you to think in a logical manner. I've never found a problem that can't be solved at infinity."
St. John Properties has received a multitude of awards over the years. Most recently, the company was named Developer of the Year by NAIOP for their outstanding quality of projects and services, active support of the industry, financial consistency and stability, ability to adapt to market conditions and the support of the local community.
Ranked as one of the 10 largest corporate philanthropists in the Baltimore Metro area by the Baltimore Business Journal since 2014, they are committed to investing long-term in the communities they serve.
Twice a year MDSPE gathers to celebrate the engineering industry at the Engineers Club. The night honors leaders in the industry and congratulates the State of Maryland's newest class of licensed engineers.
About the Maryland Society of Engineers
The Maryland Society of Professional Engineers is dedicated to the promotion and protection of the professional engineer as a social and economic influence vital to the health, safety and welfare of our community and the State of Maryland.