For Baltimore's Industrial Market, It's A Good Thing You Can't Beat Location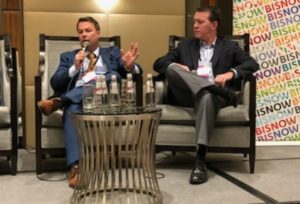 Maryland, and the Baltimore metro area in particular, have not had robust population growth in the past few years, MRP Industrial Senior Vice President Lisa Goodwin said at Bisnow's Baltimore-Washington Industrial & Logistics Forecast event last week. Developers looking to build new industrial properties tend to favor areas closer to Washington, D.C., or Philadelphia and New York, and leasing and investment activity are slower near Baltimore than near any of the above cities.
But the continued growth of e-commerce and retailers' urgency to remain relevant with better supply chain efficiency means that even without the mid-Atlantic's best fundamentals, demand is still there for warehouse space to be close to population centers.
"A lot of folks are spending huge money to keep pace in the e-commerce moment," FCL Builders Vice President Jeff Bonfoey said. "We're seeing requirements come from all brick-and-mortar guys with interest in doing the same thing. Home Depot, Lowe's and UPS are updating their supply chains across the country to get more direct customer interaction. I think those supply chains are pretty antiquated."
With demand refusing to abate, one would think that development would be easy to justify. But construction costs are rising at dizzying rates, thanks to the combination of spiking materials prices due to President Donald Trump's tariffs and the shrinking, stretched construction labor pool. Finding a site on which to build is also a challenge getting more difficult by the day.
"As land is starting to get mopped up for data centers and homebuilders who want to be near the [D.C.-area] jobs, there is less and less room for industrial," Bonfoey said. "And if you want to get property re-entitled, municipalities don't want to switch land to industrial use."
Bonfoey suggested outdated, suburban office parks as potential targets for adaptive reuse, as they have fallen out of favor with the modern workforce when compared to more urban, mixed-use areas. FCL is involved in the construction of one such project, a 200K SF center inside the Washington Beltway on the site of a former three-story office building. Bonfoey guessed that it will be the first new industrial building completed within the Beltway in 40 years when completed in 2019.
"[There has been] tremendous appetite for the project," Bonfoey said. "We've already priced half a dozen tenants who want to take the whole facility, and that's before the site has been listed with brokers or anything."
The closer to D.C. one gets, the more competitive the search for space. In Northern Virginia, where a majority of the world's internet traffic passes through, data centers have pushed a lot of industrial users out of the market, St. John Properties Senior Vice President Rick Williamson said. If they start looking on the Baltimore-Washington Corridor, it is because they need to remain in the same area — and they are paying premiums to do so.
Rent growth in the area across new leases and renewals hit 11% last year, Prologis Vice President Danielle Schline said. So far this year, that number is all the way up to 24%, without a meaningful amount of new supply. Instead, tenants are paying more for older space.
Goodwin estimates that of the 1.8M SF of warehouse space that has leased this year, half has been in Class-B buildings at increased rental rates. Class-A rents have grown as well, as users across all incomes and sizes are prioritizing location more than ever, and realizing that occupancy costs normally make up only about 8% of industrial users' spending, Manekin Senior Vice President and Capital Markets Director Owen Rouse said.
"Rent is such a small fraction of a user's income statement, so the old caps on where rents would level off are out the window now," First Industrial Realty Trust Senior Regional Director Jeff Thomas said.
As rent for existing space spirals upward, not everyone at the event was bullish on the prospect of new development, even for those who can find the land and construction labor. Multiple panelists expressed concern that the number of workers available to staff warehouses once built is approaching its limit, and that few companies have the capital to bridge the gap with automation.
Building and installing machines amount to the sticker cost for automation, but a hidden cost comes before construction even begins. Many industrial developments are partially funded by local and state tax incentives predicated on bringing more jobs to the area. Such tax credits don't apply to robots.
"There's a delicateness [to automating] due to your commitment to creating jobs to get entitlements, so you don't want to go all automated because you'll make officials unhappy," JLL Vice President Ryan Burrows said.
For those with more optimism about development, the scarcity of land is enough to drive some companies, such as STAG Industrial, to abandon the area completely and only develop elsewhere, such as Pennsylvania's Lehigh Valley, according to STAG Executive Vice President and Director of Real Estate Operations David King. For others, adaptive reuse is rapidly becoming the most appealing option.
St. John Properties has begun repurposing larger department stores in obsolete regional power centers as distribution hubs, and Williamson said that he is concerned about mixing industrial with other uses.
"I think [turning empty big-box stores into distribution centers] is a good thing," Williamson said. "Anything that brings in people is a good thing relative to an empty building."
There may be opportunities yet untapped closer to Baltimore City as well, although it does not have the same transportation advantages of the corridor. Baltimore has the oldest industrial stock of any major metro area in the country, King said.
Questions remain about how much can be done before the cycle inevitably changes course, although all panelists agreed that industrial has more growth before a downturn than any other real estate market. Reluctance to be the last one building new construction when the cycle ends is yet another impediment to new development. King, for one, predicted that 2020 might be the year the market finally heads south.
"I think we're seeing unprecedented demand, but I am a little concerned that there could be a dip around the corner," Burrows said. "But right now, things are going like gangbusters."