Greenleigh at Crossroads mixed-use project to break ground in Baltimore County
The Baltimore Sun | Pamela Wood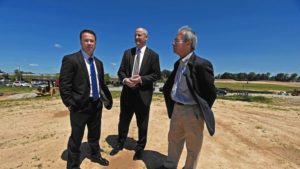 White Marsh, MD ( May 16, 2016) — When planners and politicians extended Route 43 from White Marsh to Middle River, they envisioned a "road of opportunity" that would be home to half a dozen factories.
But as manufacturing declined, developers of the area — dubbed Baltimore Crossroads — switched to offices and light industrial buildings.
Now they've changed direction again. Officials will gather Tuesday to mark the start of construction for their latest vision: Greenleigh at Crossroads, a $750 million mixed-use community of offices, shops, apartments, single-family homes and a hotel.
"I feel like it's a good mix," said Baltimore County Councilwoman Cathy Bevins, a Middle River Democrat who represents the Crossroads area. "We're finally getting the jobs we wanted."
The project, occupying 250 acres of the 1,000-acre Baltimore Crossroads, is expected to build out over 10 to 15 years.
When it was announced three years ago, Greenleigh at Crossroads was supposed to get underway a year later. The delay came in gaining approval from county regulators and refining site plans, said Michael Caruthers, president of Somerset Construction Co., the project's master developer. With projects this large, he said, plans inevitably change.
"They all morph into something," Caruthers said.
The companies involved in Baltimore Crossroads, as well as Baltimore County government, have had to adapt to changes in the real estate and employment market.
"One-off office buildings don't work anymore," Caruthers said. "You can't take 1,000 acres and do just one thing."
Greenleigh will include 1,000 detached homes and townhouses, three midrise office buildings totaling 300,000 square feet, another 128,000 square feet in single-story office buildings, 116,000 square feet of retail and a 120-room Springhill Suites by Marriott hotel. The residential area will include a pool and community center.
Caruthers and his partners are encouraged by the success of the Arbors at Baltimore Crossroads, a 365-unit apartment complex Somerset built nearby that's nearly fully leased. That's shown the viability of residential development in the area, he said.
Greenleigh at Crossroads is designed in the style of "new urbanism"— homes will be close to the street on lots that are smaller than traditional single-family properties. Blocks of townhouses will be mixed among detached houses, and pocket parks will dot the neighborhoods.
"It's one of the most exciting things we've embarked on in our company's 45-year history," said Richard Williamson, a senior vice president for St. John Properties, which is building the three multistory office buildings.
Baltimore County Executive Kevin Kamenetz said he's pleased with the development plan and overall mix for Greenleigh at Crossroads.
"It's not simply building new houses, but really attracting new concepts that we don't have," he said.
Kamenetz has advocated for a similar concept for downtown Towson — live-work-play developments that mix different uses. Kamenetz has promoted an increase in developments of condominiums and apartments in hopes of making downtown Towson vibrant on evenings and weekends. The mixed-use Towson Row project on York Road is a major piece of the ongoing redevelopment.
At Greenleigh, site grading work has begun to prepare for the extension of water and sewer lines.
Work on St. John's three multi-story office buildings is underway, and officials will break ground on the hotel, apartments and homes later in the year. The homes could be ready for sale to homeowners by spring 2017.
Elm Street Development of Northern Virginia is developing the residential section, with homes to be built by Williamsburg Homes, Ryan Homes and NV Homes. Many of the units will have garages in the rear of the properties — a concept the developers believe will de-emphasize the use of cars in the community.
Bob Bendler, president of the Essex-Middle River Civic Council, called Greenleigh a "very, very upscale, first-class proposal."
His association held numerous meetings with Caruthers, and Bendler said he hopes Greenleigh will serve as a model for other projects in terms of planning and community involvement.
"They've put together a program that will get us the kind of quality jobs that Route 43 was originally intended to create," he said.
The developers say a key attribute for Greenleigh is its location, a relatively flat property along a new road, with access to Interstate 95, the Baltimore Beltway and a MARC commuter train station at Middle River.
Caruthers said convenience should be a draw for homeowners and businesses.
"We're in what appears to be rural, but it is urban," he said.
http://www.baltimoresun.com/business/bs-bz-greenleigh-20160516-story.html