DOE expands at nearly full Walnut Creek Business Park
Colorado Real Estate Journal  |  Jill Jamieson-Nichols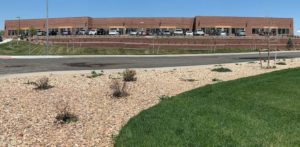 St. John Properties is nearly out of space at Walnut Creek Business Park in Westminster, with the U.S. Department of Energy expanding in the park's newest building.
The DOE Office of Legacy Management, which occupies 19,100 square feet of office space in the building at 11035 Dover St., will expand its offices by an additional 8,400 sf by early fall.
"We have one space left right now with two tenants that are vying for it. That's it. That whole business park is 100 percent leased when that space is leased up," said Brandon Jenkins, St. John Properties regional partner, Colorado.
Located at the northeast corner of West 108thAvenue and Wadsworth Parkway, Walnut Creek Business Park consists of 150,556 sf of flex/office/warehouse space in four buildings. The last building was completed in 2016.
St. John Properties has an additional, approximately 5-acre lot that is on the market for sale which it is in the process of subdividing and replatting. The lot at one time was designed for a 50,000-sf building that never was constructed.
"We're either looking to sell it or maybe dust off the plans and build another building because it's such a hot market right there," Jenkins said.
Walnut Creek Business Park accommodates uses including office, research-and-development, lab, service distribution and light industrial. It includes suites as small as 1,800 sf, and features 14- to 16-foot ceiling clearance, dock-high and drive-in loading, and four parking spaces per 1,000 sf.
St. John Properties is a Baltimore-based full-service commercial real estate company that owns, manages and has developed more than 19 million sf of commercial real estate, including office, industrial, retail and residential. Its Colorado properties, in addition to Walnut Creek Business Park, include Corporate Center and Sixth Avenue Place, both in Golden.