Yeti Cycles to remain at Golden's Corporate Center, where it will expand HQ
Golden Transcript | Paul Albani-Burgio
Company had planned to build new HQ near Highway 93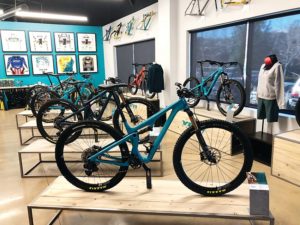 The headquarters for the Golden-based high-end mountain bike manufacturer Yeti Cycles will be staying put in southeast Golden, after all.
Yeti Cycles, which operates out of the Corporate Center at Sixth and Colfax Avenues, had announced plans in 2018 to partner with a Fort Collins-based developer to construct a new 40-acre development that would house its headquarters and other companies focusing on outdoor recreation. That development was to be located on the west side of Highway 93 five minutes north of downtown Golden.
Those plans were cancelled after Yeti and the developer's application to rezone the land to allow for the development was denied by the county. But the cancellation turned out to be for the best, Yeti's Chief Financial Officer Bill Mueller said, as Yeti's landlord extended them the opportunity to lease an additional 28,560-square-foot space in the Corporate Center that will provide ample space to accommodate Yeti's further growth.
"When we were running into some challenges with the other location we kind of engaged with our landlord, St. John Properties, which owns the whole Corporate Center and our needs were large enough we were able to work with us to make that space become available all together," Mueller said.
Yeti has signed a 10-year lease for the space, which is located at 611 Corporate Circle and neighbors Yeti's current space at 621 Corporate Circle. Mueller said the company plans to locate offices housing Yeti's sales, administrative, marketing and engineering staff in the new space. That will allow Yeti to devote 621 Corporate Circle to facilities for bike assembly and distribution and expand its bike show room.
In addition to giving Yeti more space to meet growing consumer demand (all of the company's bikes are are assembled at the Corporate Center), Mueller said the new lease will provide Yeti the opportunity to redesign and renovate the interior of the spaces to best suit its needs.
"It's like a 28,000-square-foot clean slate and we will be able to build the thing from scratch from a shell," said Mueller.
But Mueller says Yeti's staff is also happy to be remaining at Corporate Center for another reason.
"The mountain bike trail access is actually better over here than it would have been at the spot we were looking at so that is beneficial," he said.
That's important because Yeti closes every day from 11:30 a.m. to 1 p.m. so that its employees can mountain bike on the trails around Golden.
Yeti currently has around 60 employees, which is up from around 25 five years ago. However, Mueller said that number will likely increase to 70 by 2021, which is when Mueller expects the new space to be ready for Yeti staff to move into it.
Brandon Jenkins, a Regional Partner for St. John Properties Colorado, said the new lease agreement with Yeti represents a win for both organizations.
"Consolidating into one centralized corporate campus will increase the overall efficiency of Yeti, especially the logistics and shipping divisions of the company, as 611 and 621 Corporate Circle share a truck court," explained Brandon Jenkins of St. John Properties. "The decision by Yeti Cycles to retain their presence within Corporate Center demonstrates the attractiveness of the business environment and its strategic placement near amenities and major highways."