Clubhouse Kids launches standalone location to serve new need in the pandemic age
The Frederick News Post  |  Erika Riley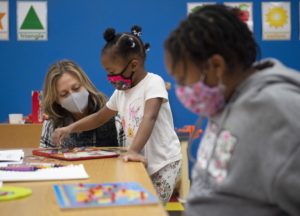 Aimee Dunn has owned Clubhouse Kids with her husband Chris Dunn since 2013, but the before- and after-school childcare program for Frederick's charter schools took a big turn this year amid the coronavirus pandemic.
With most kids learning from home, Clubhouse Kids essentially lost all of its revenue. While they are still operating out of the charter schools for a few children whose parents have to work during the day, the majority of their little clients no longer needed Clubhouse's services at the schools.
"So, with that, we decided that we really needed to take this venture and find a place that we could operate a standalone childcare location," Aimee Dunn said. "And not just maybe a typical one, but one that would be really interesting and really neat and catch people's attention."
Clubhouse Kids opened at 8420 Gashouse Pike in the Riverside Tech Park Business Park on Monday. The facility is offering daycare to children as young as six weeks old and up to 8th grade.
School-age children will receive guidance with their virtual learning in a learning hub where they can log into their Chromebooks and take classes. Students will also be able to participate in physical education classes.
The daycare center has 11,500 square feet of space and 16-foot ceilings that allow for a "clubhouse" feel. The large swath of space helps accommodate all the age groups.
"So what makes us pretty different in that aspect is that in most childcare center locations you don't have anything but classroom space," Dunn said. "We have classroom space plus two gymnasium-type rooms where the kids will actually get to participate … in physical fitness activities."
The location was formerly home to Pump it Up — an indoor moon bounce facility — and the Dunns purchased some of the inflatables off of the outgoing tenants when they began leasing the location.
Dunn said she's excited about the freedom they have in the new location as opposed to strictly operating out of the schools.
"I'm glad that we'll be able to actually branch out a little bit more and reach more of the community by offering care for the younger age groups as well as the school-agers," she said.
Operating hours are currently 7 a.m. to 5:30 p.m., but the company expects to expand hours to 6:30 a.m. to 6:30 p.m. soon.
"Being closed for almost seven months due to COVID and worrying about what the impact is going to be on the business," Dunn said, "having this [opportunity] presented to us at that time has really just helped us to grow."