Baltimore-Area R&D Park Welcomes New Tenants
Commercial Property Executive  |  Corina Stef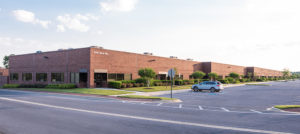 St. John Properties inked two new leases totaling more than 30,000 square feet at its 44-acre Riverside Technology Park in Frederick, Md., bringing the campus to 90 percent occupancy. The campus is now 90 percent leased.
FREDERICK, MD (September 19, 2017) — After signing new leases at Cromwell Center in Towson, Md., in July, St. John Properties secured two new leases totaling 34,651 square feet at Riverside Technology Park, a six-building, 487,000-square-foot R&D campus in Frederick, Md. The park sits on 44 acres and was developed by St. John Properties in multiple phases between 2001 and 2008. The transit-oriented property is situated in the vicinity of the Frederick Municipal Airport. The asset is 55 miles from Washington, D.C., and 45 miles from Baltimore City. Additionally, it provides direct access to Route 26 and Interstate 70.
KEEPING IT LOCAL
The first tenant is Frederick-based Equipment Development Co. (EDCO), which signed a 29,280-square-foot lease for its custom fabrication division at 8320 Spires Way. The single-story building comprises 87,240 square feet of space and features 16-foot ceiling heights, dock and drive-in loading facilities and a high-utility design that accommodates office, light manufacturing, warehouse and logistics requirements, in addition to ample parking.
Store chain franchise Royal Farms has leased a 5,371-square-foot pad site that will serve as an upcoming full-service convenience store and fuel station. Construction is expected to begin this fall, with the opening schedule for mid-2018. The two leases bring the park's occupancy level to 90 percent.
The landlord was represented in house by Bill Holzman, while Rockpoint Commercial's Justin Ausherman acted on behalf of EDCO.
"Attracting EDCO represents a significant win for Riverside Technology Park, given the size of the lease, combined with the company's pedigree as among the most well-respected and stable corporations in the Frederick region," St. John Properties Regional Partner Matthew Holbrook said in a prepared statement. "The addition of Royal Farms to the business community incorporates a strong amenity to the benefit of existing tenants, and also represents a highly recognized brand offering an assortment of food products and fuel. It remains a long-standing foundation of our company to continuously offer available space for growth to a wide range of tenants, with local companies in particular."
https://www.cpexecutive.com/post/baltimore-area-rd-park-welcomes-new-tenants/