Another Baltimore firm teaming with University of Maryland on new development
Washington Business Journal | Daniel J. Sernovitz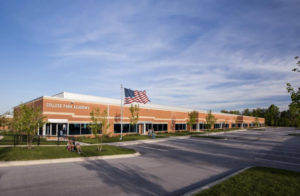 College Park, MD (June 9, 2016) — Another University of Maryland alum-turned-developer has set his sights on the state's flagship campus.
St. John Properties Inc. has proposed teaming up with the University of Maryland to develop a trio of buildings, including a pair of flex structures aimed at attracting tech business and related enterprises to university-owned land in Riverdale Park adjacent to College Park.
The firm is headed by Edward St. John, who earned a bachelor's degree in electrical engineering from Maryland before founding what's now the Baltimore region's second-largest commercial property manager, per Baltimore Business Journal rankings.
His plans follow that of another famous alum, former Under Armour executive Scott Plank, who is also collaborating with the university on a pair of projects.
The University System of Maryland Board of Regents' finance committee is scheduled to take up the proposal Thursday. The project is just the latest of several involving the university and private developers. They include Corporate Office Properties Trust's 75,000-square-foot spec office building at the university's M Square research park, and Plank's War Horse LLC's redevelopment of a former auto maintenance facility to feature a chef-driven restaurant with teaching kitchen and performance space.
In this case, the university has proposed forming a joint venture with St. John Properties in which it would contribute the land and the Windsor Mill-based developer would fund, build and operate the projects. The two would share 50 percent of the resulting cash flow. The university struck a similar deal with COPT on M Square previously and is an alternative to selling the property outright or entering into a long-term lease such as with Plank's project.
On the first of the sites, a 10.37-acre parcel just east of Lafayette Avenue and the Whole Foods Market-anchored Riverdale Park Station development beyond it, St. John Properties plans two flex buildings combining for about 111,240 square feet, according to project documents. The university hopes the space will attract a range of businesses specializing in engineering, data analytics, cybersecurity and robotics, among other disciplines. The hope is that the project will attract high-tech companies and keep them in the "Greater College Park" area.
On the second of the two sites, a 4.55-acre parcel east of Rivertech Court from the first, St. John plans to develop a 50,107-square-foot building to be leased to the College Park Academy charter school. The academy, formed through a partnership between the city of College Park, the university and Prince George's County Public Schools, has operated since the 2013-14 school year in space provided St. Mark's Catholic Church in Adelphi under a lease slated to expire in 2017.
http://www.bizjournals.com/washington/breaking_ground/2016/06/another-baltimore-firm-teaming-with-university-of.html