1623 Brewing Company Grand Opening Set For February 22, 2020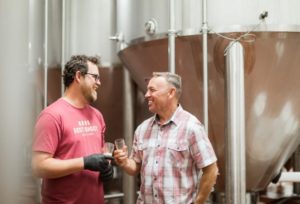 1623 Brewing Company announces that it will open its brewery and taproom operations at 5975 Exchange Drive, Suite L, in Eldersburg on Saturday, February 22, 2020. The new facility houses a 30-barrel brewhouse operation in nearly 6,000 square feet, with another 6,000 square feet of taproom with patio for the public.
On Saturday, February 22, at 11:30 am, 1623 will unlock its doors for the first time to the public. The taproom seats nearly 200 people with a variety of seating options. The largest circular, concrete bar in Maryland will welcome more than 30 people, while community tables, 'date night tables,' and an inviting home-setting will allow everyone to find a home. When the weather allows, 1623 will raise the garage doors and open up the 1,600 square foot patio for all to enjoy as well.
"This has been a long time in planning and a lot of hard work," said Zac Rissmiller, Co-Founder and Head Brewer. "The opportunity that exists in Carroll County and throughout Maryland, and the entire region for the matter is immense. We are excited to finally have the opportunity showcase our brand and styles from our own state-of-the art brewing facility."
1623 Brewing is a Maryland company that has been producing and distributing its beer throughout Maryland since September, 2018 under a contract brewing agreement. This allows start-up breweries to produce their product at other breweries while building their own facilities.
1623 gets its name from its McKelvin Family roots. Husband and wife, Mike and Sandy McKelvin, Co-Founders, are both born and raised Marylanders, while Zac's father and grandmother were born in Maryland, but in the late 50s the family relocated to Littleton, Colorado, 1623 miles away from the rest of the family.
"The whole reason for the 1623 name was to show that no matter the distance, family is extremely important to us," Mike McKelvin said. "We have used the #1623 Family since our inception. The family and community aspect of our business is at the heart of everything we do. The entire design of our taproom was to make certain you feel at home and are part of a growing family."
1623 Brewing's new home is located in St. John Properties' Liberty Exchange in Eldersburg. Exchange Drive is 2 miles west of the intersection of Routes 32 and 26 (Liberty Road). The taproom will be open to the public starting Saturday, February 22, at 11:30am. Normal taproom hours will be Wednesday and Thursday 2pm-9pm, Friday and Saturday 11:30-9pm, and Sunday 11:30-7pm.