Two More Groups Join Newest Building at Ashburn Crossing
Excel Courier and FASTSIGNS Herndon are moving to 21240 Ashburn Crossing Drive and will occupy nearly 16,000 square feet of space collectively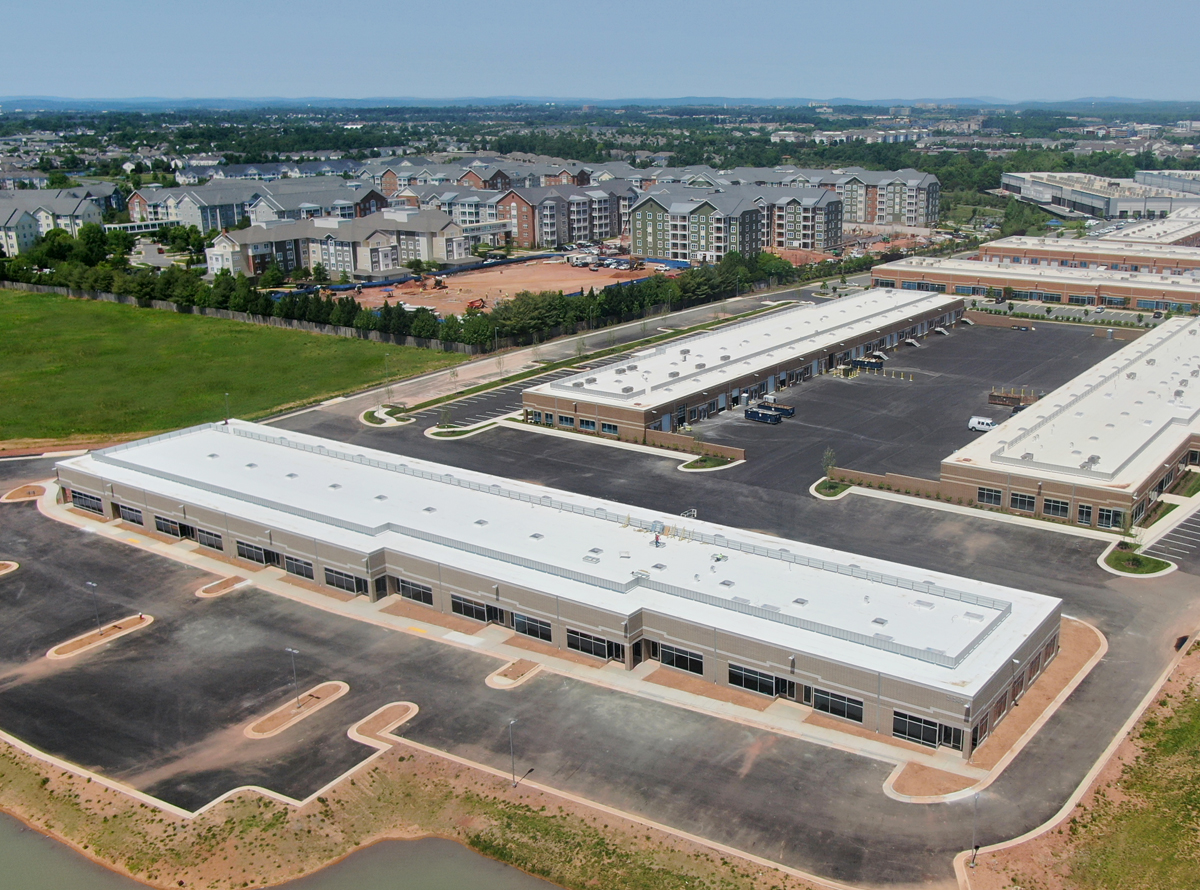 ASHBURN, VA – St. John Properties, Inc., a commercial real estate development and management company which has delivered more than 23 million square feet of space, has attracted two companies, totaling nearly 16,000 square feet of space, to Ashburn Crossing in Loudoun County, Virginia. Excel Courier & Logistics, Inc, and FASTSIGNS Herndon are expected to occupy 21240 Ashburn Crossing Drive, a single-story building comprising 43,620 square feet of flex/R&D space upon completion. Danny Foit of St. John Properties represented the landlord in both transactions. Chase Stewart of KLNB represented FASTSIGNS Herndon and Leland Middleton of Savills represented Excel Courier in these lease transactions.

In 2021, St. John Properties initiated speculative development activities on three flex/R&D buildings comprising more than 135,000 square feet of space, as well as one retail pad site that can support a variety of end-users including a convenience store at Ashburn Crossing. 21210 and 21220 Ashburn Crossing Drive, both containing 46,080 square feet of space, were delivered earlier this year and are nearly 100 percent leased. Excel Courier and FASTSIGNS Herndon represent the first two leases completed at 21240 Ashburn Crossing Drive, and the building is now approximately 35 percent leased. The 80-acre business community is located at the intersection of Gloucester Parkway (VA Route 28) and Loudoun County Parkway (VA Route 607).

Excel Courier & Logistics provides same-day delivery and logistics services to companies throughout the Mid-Atlantic region. The group specializes in medical, temperature-controlled and on-demand courier services, as well as offering third-party logistics, on-demand warehouse and inventory management. The Sterling-based group presently operates two offices in Sterling, as well as others in Richmond, Virginia, Beltsville, Maryland and Harrisburg, Pennsylvania. Excel Courier intends to relocate one of its locations in Ashburn, as well as approximately 30 employees, to Ashburn Crossing to house its courier services and back-office operations.

"The real estate consultant we engaged recommended Ashburn Crossing and explained how easy it was to work with St. John Properties," stated Excel Courier's CEO, Chris Marchetti. "That was a breath of fresh air to us and we love the new space."

FASTSIGNS Herndon is a locally and independently-operated sign, graphics and visual communication company that provides visual marketing solutions to customers of all sizes and across all industries. Products include digital signage, exhibits, message boards, sign hardware, and promotional and marketing materials. The company is relocating from the Herndon area because its existing landlord sold the building housing its operations.

"Ashburn Crossing has outstanding visibility and access from two major roadways serving the greater Ashburn region in Loudoun County Parkway and Gloucester Parkway, as well as proximity to numerous business and residential communities that regularly utilize our services," stated Sarah Mullikin, Vice President of FASTSIGNS Herndon. "The availability of generous free parking was a significant driver in our decision, and the flexible layout of the interior space will allow us to easily replicate our existing business concept. The space is close enough to our current location so current customers will not be inconvenienced," she added. The company, which also operates a Tysons Corner store, plans to relocate to the space, along with 12 employees, this fall.

Earlier this year, St. John Properties executed four leases accounting for more than 65,000 square feet of space at Ashburn Crossing. Leases were signed at 21210 Ashburn Crossing Drive with AVI-SPL, LLC (32,040 square feet of space); Direct Line Global, LLC, (17,040 square feet of space) and Olive Innovative Technology (8,280 square feet of space). E2 Optics, LLC leased a 9,000 square foot space at 21220 Ashburn Crossing Drive.

Ashburn Crossing is presently comprised of nine buildings totaling over 350,000 square feet of flex/R&D space. In 2019, the project was recognized as the best R&D/Industrial/Flex project by NAIOP Northern Virginia, the leading organization for developers, owners and related professionals in office, industrial and mixed-use real estate. With close attention to environmental sustainability, each building of the project was designed for or has earned LEED certification from the U.S. Green Building Council. This helps tenants meet their environmental stewardship goals, attract and retain employees, and reduce building operating costs.

"Leasing remains extremely robust throughout our entire Northern Virginia and Frederick portfolio," stated Matt Holbrook, Regional Partner for St. John Properties. "The most recent leasing activity involves companies relocating to Ashburn Crossing from buildings in surrounding business communities. We believe a portion of this movement may be attributed to the displacement of tenants, and precipitated by data centers acquiring buildings for their own purposes. We remain committed to developing properties on a speculative basis and offering opportunities for businesses of all size and industry types to operate uninterrupted and thrive long-term. This approach also aligns with the interests of Loudoun County economic development officials."

Founded in 1971, St. John Properties, Inc. is one of the nation's largest and most successful privately held commercial real estate firms. The company is distinguished by its commitment to customer service, achievements in green building, and top-rated workplace culture. Throughout St. John Properties' 52-year history, the company has developed more than 23 million square feet of flex/R&D, office, retail, warehouse space and has investments in over 3,000 residential units. The company proudly serves more than 2,500 clients in Colorado, Florida, Louisiana, Maryland, Nevada, North Carolina, Pennsylvania, Texas, Virginia, Utah, and Wisconsin. For more information about the company, visit www.sjpi.com.