St. John Properties Utah Promotes Scott Gifford to Director of Leasing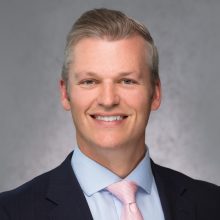 PLEASANT GROVE, UT – St. John Properties, a full-service commercial real estate firm which has developed more than 23 million square feet of space nationally and more than one million square feet throughout the state of Utah, has announced the promotion of Scott Gifford to Director of Leasing. Gifford, who joined the company in 2019 was formerly Leasing Representative.

In his new new role, Gifford will manage the day-to-day activities of St. John Properties' in-house leasing and marketing team to identify companies and organizations seeking new or expanded office, industrial/warehouse, flex/R&D and retail space to fit within the company's real estate portfolio in Salt Lake, Utah and Weber counties. He will also guide the negotiation of new leases and lease renewals, establish and strengthen relationships with the commercial real estate brokerage community, and assist with the identification and due diligence activities of potential land and building acquisitions.

Gifford's has more than 17 years of business and real estate experience. He earned a bachelor's degree in Spanish and Business Administration from the University of Oregon and a Master of Business Administration from Washington State University.

"Scott consistently demonstrates a tremendously strong work ethic, passion for learning and success and desire for 100% client satisfaction that make him an indispensable contributor to our team," explained Daniel Thomas, Regional Partner, Utah. "It has been extremely gratifying to watch his professional growth and ability to navigate real estate transactions that consistently bring value to our company. Scott has an unquenchable thirst for improvement and is also committed to mentoring others, making a difference in the community, and accepting and succeeding with every challenge. He leads by example in our mission to deliver best-in-class commercial real estate services to our clients throughout Utah."

St. John Properties entered the Utah commercial real estate market in 2014 and has since developed more than one million square feet of Class 'A' office, flex/R&D and retail space throughout the greater Salt Lake City metropolitan area. Last fall, St. John Properties broke ground on 12th Street Exchange, its first development located north of Salt Lake City in Weber County, located at 1200 South and S 1900 West in Marriott-Slaterville. Once delivered, the 19-acre business community will be comprised of 175,000 square feet of flex/R&D and retail space.

Founded in 1971, St. John Properties, Inc. is one of the nation's largest and most successful privately held commercial real estate firms. The company is distinguished by its commitment to customer service, achievements in green building, and top-rated workplace culture. Throughout St. John Properties' 52-year history, the company has developed more than 23 million square feet of flex/R&D, office, retail, warehouse space and has investments in over 3,000 residential units. The company proudly serves more than 2,500 clients in Colorado, Louisiana, Maryland, Nevada, North Carolina, Pennsylvania, Texas, Virginia, Utah, and Wisconsin. For more information about the company, visit www.sjpi.com.