Jenessa Young of St. John Properties Elected Chair for Pleasant Grove/Lindon Chamber of Commerce Board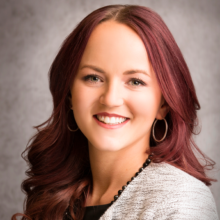 PLEASANT GROVE, UTAH (June 5, 2019) — Jenessa Young has been elected as Chair for the Pleasant Grove/Lindon Chamber of Commerce Board of Directors. As Chair, her duties include oversight of all Chamber activities and acting as liaison with city organizations and other area Chambers.
"We are delighted for Jenessa's new role at the Chamber," states Daniel Thomas, regional partner for St. John Properties. "Her drive and focus creates tremendous results everywhere she applies her ample skills."
Eric Jensen, Chamber President adds, "We are so pleased with Jenessa's abundant energy and strategic thinking on the Board. Pleasant Grove/Lindon Chamber will benefit from her strong leadership."
Jenessa manages in-house interior design and space planning efforts for the design department at St. John Properties – Utah region. Responsibilities include the new 140,000 square foot, five-story Office Tower, as well as other rapidly rising commercial buildings in this 62-acre development. Her experience includes design work on more than 700,000 square feet of commercial, hospitality, and multi-family buildings. Jenessa received a Bachelor of Science Degree in Family Life with an emphasis in Interior Design from Brigham Young University. She has served as an active Board Member on the Pleasant Grove/Lindon Chamber of Commerce since 2017.
About St. John Properties
Established in 1971 by Edward St. John, St. John Properties has evolved from a developer of commercial buildings into a long-term real estate investment company. Now expanding in Utah, St. John Properties is attracted by the State's economic strength, pro-business climate, quality of life, and projected growth. St. John's new Valley Grove development in Pleasant Grove marks the company's commitment to Utah's quality of life with its 40th LEED certified commercial office building.