St. John Properties Utah Promotes Marty Beaumont to Director of Development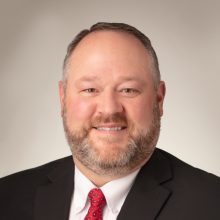 PLEASANT GROVE, UT – St. John Properties, a full-service commercial real estate development and investment company which has developed more than 1.1 million square feet of commercial real estate throughout Utah since 2022, has announced the promotion of Marty Beaumont to Director, Development.

In his continuing role with St. John Properties, Beaumont will interact with various government agencies to review and expedite development projects through the entitlement and design approval process, while obtaining all necessary construction permits. Beaumont will also critically review all engineering plans to ensure company standards are met and designs are cost effective. Additionally, he will oversee all due diligence activities related to new acquisitions and participate in local legislative initiatives related to land development projects.

Earlier this year, St. John Properties Utah broke ground on the newest phase of Valley Grove in Pleasant Grove, Utah. Fronting I-15, "Phase VI" will consist of approximately 47 acres of mixed-use development featuring commercial office and retail space, luxury residential, and a central promenade. Development of Valley Grove began in 2016 and includes 128 total acres. Upon completion, the company's investment will surpass $1.2 billion and include more than 1.5 million square feet of Class 'A' office, flex/R&D, and retail space and host more than 10,000 tenant employees.

Beaumont has more than 23 years of commercial real estate and project management experience, having previously worked as Director of Public Works for Pleasant Grove City and Project Manager for J-U-B Engineers. He earned a Civil Engineering degree from Brigham Young University.

"Marty is uniquely qualified for this critical position with the company given his background as a public official for Pleasant Grove City, combined with his overall knowledge and understanding of entitlement procedures and protocols in our local jurisdictions," stated Daniel Thomas, Regional Partner, Utah. "This exercise has become increasingly complex and lengthy, and we consistently depend on Marty's guidance to bring successful and timely outcomes to the site design and approval processes. He has been a valued member of our team and this promotion reflects the confidence we have in his abilities."

Over the past 10 years, St. John Properties' development activities have centered in the mixed-use business communities of Beltway West, Spring Pointe Exchange, and Valley Grove.

Founded in 1971, St. John Properties, Inc. is one of the nation's largest and most successful privately held commercial real estate firms. The company is distinguished by its commitment to customer service, achievements in green building, and top-rated workplace culture. Throughout St. John Properties' 52-year history, the company has developed more than 23 million square feet of flex/R&D, office, retail, and warehouse space, and has investments in over 3,000 residential units. Expanding regionally in four Utah communities, St. John Properties recognizes the State's economic strength, pro-business climate, quality of life, and projected growth. For more information about the company, visit www.sjpi.com/utah.