St. John Properties Selects Samantha VanDresser as Property Administrator/Office Coordinator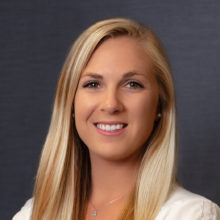 DENVER, CO (October 21, 2020) – St. John Properties, Inc., a full-service commercial real estate development and investment company active in the central Colorado region since 1987, has selected Samantha VanDresser as Property Administrator/Office Coordinator. She formerly worked as an Assistant Property Manager for a commercial real estate firm in Fort Lauderdale.
In her new role with St. John Properties, Ms. VanDresser will handle a number of property management-related responsibilities including interacting with sub-contracting companies, tracking client service requests, tenant billings, performing client follow-up activities and assisting with pro-active building maintenance and repair functions. She will also oversee general office organization duties and miscellaneous assignments to assure the smooth operations of the real estate company.
Ms. VanDresser brings five years of business, finance and commercial real estate experience to this new role, having also functioned as a research analyst and sales agent. She earned a Bachelor of Science in Business – Finance and Real Estate from Florida State University, and has volunteered with non-profit organizations including Students Against Melanoma and Coastal Conservation Association Florida
"Sam's outgoing personality and positive demeanor first caught our attention, and she combines those attributes with a strong understanding of the commercial real estate industry with a focus on property management and service," explained Brandon Jenkins, St. John Properties' Regional Partner for Colorado. "This position requires the ability to make quick decisions, problem-solve and work in a fast-moving environment and we are confident that Sam's skill-set and enthusiasm will be key assets in her contributions to our company."
St. John Properties has developed and presently manages nearly one million square feet of commercial real estate assets in the Colorado region including Corporate Center, a fourteen-building 600,000 square foot business community in Golden; Sixth Avenue Place, a 145,000 square foot project in Golden; and Walnut Creek Business Park, which contains more than 200,000 square feet of space in the city of Westminster. This summer, the company acquired 81 acres of land in Broomfield and announced plans to develop Simms Technology Park, a mixed-use business community that will contain nearly 600,000 square feet of single-story, multi-story, flex/R&D and retail space.
St. John Properties, Inc., founded in 1971 and headquartered in Baltimore, owns and has developed more than 20 million square feet of R&D/Flex, Office, Retail and Warehouse space in Maryland, Colorado, Louisiana, Nevada, Pennsylvania, Virginia, Utah, and Wisconsin. The company was named "2018 Developer of the Year" for the Nation by NAIOP, the Commercial Real Estate Development Association.  For more information about the company, visit sjp.mu9b0uf9-liquidwebsites.com/colorado.