St. John Properties Promotes Ryan Mitchell to Director or Interior Construction, Virginia & Central Maryland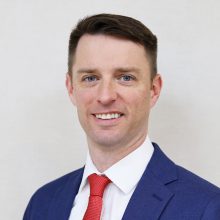 ASHBURN, VA – St. John Properties, Inc., a commercial real estate development and management company that has developed more than 23 million square feet of space across 11 states, has announced the promotion of Ryan Mitchell to Director of Interior Construction for the Virginia and Central Maryland division. Mitchell joined the company in 2020 and was formerly Senior Project Manager, Interior Construction.

Mitchell will continue to oversee the execution of all tenant build-out activities throughout the St. John Properties portfolio in the Northern Virginia and Central Maryland region. This includes directing the efforts of the in-house project managers and field staff, overseeing budgeting and scheduling, permit expediting, planning activities, and interfacing with tenants, design and leasing professionals, and third-party subcontractors to meet move-in deadlines. Mitchell will also manage all tenant construction activities to conclusion and assure their successful completion.

Mitchell has more than 18 years of directly-related commercial real estate and construction experience. Prior to joining St. John Properties, he functioned in several project management roles for The Wormald Companies, NVR, Inc. and H&H Drywall Specialties. He earned a Bachelor of Arts degree from Virginia Tech and a Master of Arts in Management and Leadership from Liberty University.

"Ryan has a tremendous track record of executing tenant build-out activities that meet critical time and budget objectives, and we consistently depend on his knowledge and skillset to execute successful outcomes to the benefit of our tenants," stated Matt Holbrook, Regional Partner, Virginia and Central Maryland for St. John Properties. "He has demonstrated the ability to successfully navigate challenging assignments and turn over space in a timely fashion, exceeding the expectations of our clients and important stakeholders. His customer service is always exemplary."

Founded in 1971, St. John Properties, Inc. is one of the nation's largest and most successful privately held commercial real estate firms. The company is distinguished by its commitment to customer service, achievements in green building, and top-rated workplace culture. Throughout St. John Properties' 52-year history, the company has developed more than 23 million square feet of flex/R&D, office, retail, warehouse space and has investments in over 3,000 residential units. The company proudly serves more than 2,500 clients in Colorado, Louisiana, Maryland, Nevada, North Carolina, Pennsylvania, Texas, Virginia, Utah, and Wisconsin. For more information about the company, visit www.sjpi.com.