St. John Properties Promotes Daniel Severn to Regional Vice President for Virginia and Central Maryland Division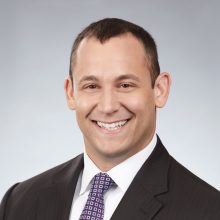 FREDERICK, MD (October 11, 2022) – St. John Properties, Inc., a commercial real estate development and management company that has developed more than 22 million square feet of commercial real estate space across nine states, has announced the promotion of Daniel Severn to Regional Vice President for the Virginia and Central Maryland Division. Formerly Assistant Vice President, Severn has worked for the company since 2008.

Severn will continue to oversee day-to-day real estate development responsibilities across the Virginia and Central Maryland Region, which includes maintaining relationships with local officials involved in the permitting and approvals process, and directing all entitlement activities for ground-up construction projects. He will also direct the activities of third-party vendors such as architects, engineers, legal teams and subcontractors, as well as coordinating with in-house construction professionals, to manage the development process in an efficient and timely manner. Severn also manages the Region's Property Management Division including lease administration, maintenance, capital improvements, and tenant relationships.

St. John Properties' current development pipeline throughout Frederick, Maryland and Northern Virginia currently exceeds 2.3 million square feet of space, with signature business communities including Ashburn Crossing, an 80-acre business community in Ashburn, Virginia comprising more than 350,000 square feet of flex/R&D space, Leesburg Tech Park, a 160,000 square foot business community in Leesburg, Virginia and Riverside Tech Park, a 70-acre business community with more than 750,000 square feet of flex/R&D and retail space in Frederick, Maryland.

Severn earned a Bachelor of Arts degree from York College of Pennsylvania and a Master of Science from the Edward St. John Real Estate Program at the Johns Hopkins University. He is an active member of NAIOP Virginia, previously serving as a Co-Chair of the Developing Leaders program. Additionally, he is active with The Rotary Club of Frederick and is on the Board of Directors of the Mental Health Association (MHA) of Frederick and Hope in South Africa. Severn began his St. John Properties career as a student intern, and functioned in various property management and leasing roles before segueing to his current development responsibilities.

"Danny has done a tremendous job of managing important relationships in various jurisdictions throughout Central Maryland and Northern Virginia, as well as navigating and guiding us through and the entitlement and approval process in these regions," stated Matt Holbrook, Regional Partner for St. John Properties. "His continuing success with these endeavors has enabled St. John Properties to maintain a robust real estate development pipeline and deliver best-in-class commercial office, flex/R&D, warehouse/industrial and retail space to both existing and future clients. This promotion reflects Danny's role as an invaluable member of our team, as well as his impressive problem-solving, communication and leadership abilities."

Founded in 1971, St. John Properties, Inc. is one of the nation's largest and most successful privately held commercial real estate firms. The company is distinguished by its commitment to customer service, achievements in green building, and top-rated workplace culture. Throughout St. John Properties' 51-year history, the company has developed more than 22 million square feet of flex/R&D, office, retail, warehouse space and has investments in over 2,600 residential units. The company proudly serves more than 2,500 clients in Colorado, Louisiana, Maryland, Nevada, Pennsylvania, Texas, Virginia, Utah, and Wisconsin. For more information about the company, visit www.sjpi.com.