St. John Properties Hires Larontay Gates to In-House Property Management Team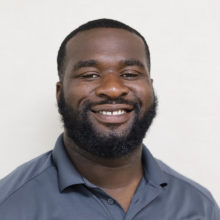 BALTIMORE, MD (January 8, 2021) – St. John Properties, Inc., a Baltimore-based full-service commercial real estate development and investment company, has announced the hiring of Larontay Gates to the company's in-house property management team as a Maintenance Technician.
In his new positions with the company, Mr. Gates will complete day-to-day maintenance and property improvement assignments across the St. John Properties portfolio of commercial office, flex/R&D and retail space throughout the Baltimore-Washington metropolitan area. This includes addressing repairs to the exterior buildings and hardscape areas within business communities, installing or replacing landscape materials, and completing repairs or minor installations to interior client spaces.
"We depend on professionals like Larontay to achieve our corporate mission of exceeding client expectations by providing timely solutions to real estate and building-specific needs," stated Bill McFaul, Senior Vice President, Property Management of St. John Properties. "Larontay has proven to be expert at his craft, detail-oriented and able to multi-task and problem solve in the field."
Founded in 1971 and headquartered in Baltimore, Maryland, St. John Properties, Inc. is one of the Mid-Atlantic's largest privately held commercial real estate firms. The company is distinguished by their commitment to customer service, achievements in green building, and top-rated workplace culture. Throughout St. John Properties' 50-year history, the company has developed more than 21 million square feet of flex/R&D, Office, Retail and Warehouse space serving more than 2,500 clients in Maryland, Colorado, Louisiana, Nevada, Pennsylvania, Virginia, Utah, and Wisconsin. For more information about the company, visit sjp.mu9b0uf9-liquidwebsites.com.