Chesapeake Veterinary Referral Center Signs 46,000 Square Foot Lease at Yorkridge Center North
Featuring six separate practice groups, specialty veterinary concept signs lease with St. John Properties and intends to relocate from Towson area with approximately 150 employees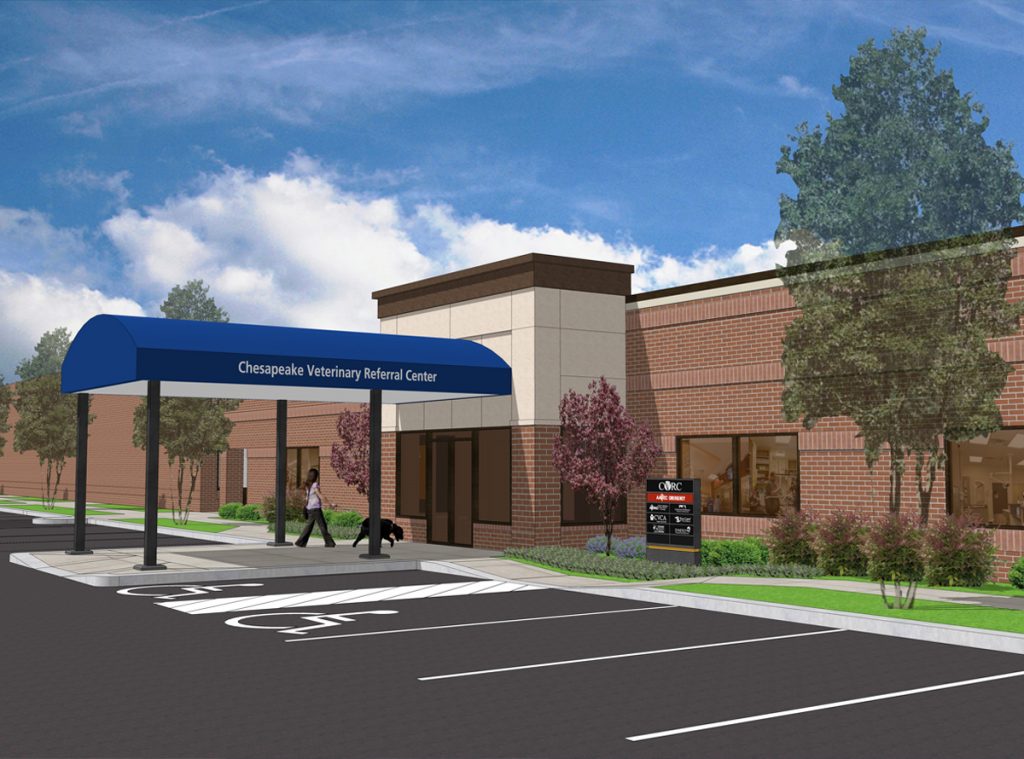 BALTIMORE, MD – Chesapeake Veterinary Referral Center (CVRC), a specialty veterinary concept comprised of six separate practice groups, has signed a lease with St. John Properties, Inc. for approximately 46,000 square feet of space at Yorkridge Center North in the Cockeysville section of Baltimore County. The company, which is under the Chesapeake Veterinary Referral Center corporate umbrella, intends to relocate from its existing space in Towson, together with approximately 150 employees, to 10626 York Road in spring 2023. Matt Lenihan, Senior Vice President of Leasing for St. John Properties represented the landlord and Matt Haas and Kevin Haus from JLL represented the client in this transaction.

CVRC is a specialty veterinary hospital and emergency center, offering medical and rehabilitation disciplines for dogs and cats, including cardiology, surgery, internal medicine, neurology, eye care, and rehabilitative services. The space, which is contained within a 58,903 square foot flex/R&D building, will also include an emergency clinic that will be open twenty-four hours a day, seven days a week. In 2018, through a joint venture partnership with St. John Properties, the group leased a 28,000 square foot facility at 808 Bestgate Road in Annapolis. CVRC also maintains a third full-service location in Columbia.

"This relocation is being driven by several factors, led by our need to have a significantly larger facility to serve our expanding patient load and the expiration of our current lease," explained Sally Strange, Co-Manager with Chesapeake Veterinary Referral Center. "We had a tremendous experience working with St. John Properties for our Annapolis real estate requirement, so immediately turned to them when this need emerged. St. John showed us several different buildings and retail centers in the north Baltimore County market and, after touring the locations, we chose Yorkridge Center North. The location will provide us direct access to an extremely dense consumer market, and the availability of highway visibility, free parking and nearby amenities are major pluses."

Yorkridge Center North is a 115,120 square foot mixed-use business community that is directly accessible from the Warren Road exit of Interstate 83, four miles from Interstate 695, and six miles from Towson. Nearly 28,000 vehicles pass the site on a daily basis via York Road, and approximately 82,000 people reside within a five-mile radius.

"We are excited to welcome CVRC, a national renowned veterinary provider, to Yorkridge Center North," stated Matt Lenihan, Senior Vice President of Leasing for St. John Properties. "The St. John Properties design and construction teams previously partnered with CVRC to construct a new built-to-suit veterinary center in Annapolis and the successful delivery of that project helped streamline the process for this new location in Cockeysville/Hunt Valley. The versatility of our flex/R&D buildings combined with ample parking and highway accessibility are ideal for this type of highly specialized facility."

Founded in 1971, St. John Properties, Inc. is one of the nation's largest and most successful privately held commercial real estate firms. The company is distinguished by its commitment to customer service, achievements in green building, and top-rated workplace culture. Throughout St. John Properties' 51-year history, the company has developed more than 22 million square feet of flex/R&D, office, retail, warehouse space and has investments in over 2,600 residential units. The company proudly serves more than 2,500 clients in Colorado, Louisiana, Maryland, Nevada, North Carolina, Pennsylvania, Texas, Virginia, Utah, and Wisconsin. For more information about the company, visit www.sjpi.com.