Pipeline Soccer Club Chooses Greenleigh for New Headquarters and Performance Center
Local youth soccer organization plans to open Pipeline Performance Center on November 1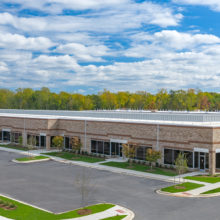 BALTIMORE, MD (October 6, 2020) – Pipeline Soccer Club, a Maryland-based youth soccer club with more than 1,000 players, has chosen Greenleigh as the site for its new Pipeline Performance Center. The facility will include an indoor field and training facilities, offices for its more than 50-person staff, classrooms, and a gym. The club, founded by Sean Rush and Santino Quaranta, has signed a lease with St. John Properties, Inc. for 6,074 square feet of space in 1310 Innovation Street, and expects to be operational within the Baltimore County mixed-use business community by November 1, 2020. Brooke Harlander, Partner in Training for St. John Properties represented the landlord in this transaction.
Pipeline Soccer Club fields 66 boys' and girls' teams in the Maryland region, and currently trains and plays games at two outdoor facilities in Baltimore City and the Bel Air area of Harford County. Founded in 2011, the club has produced 230 players that have competed on the collegiate level over the past four years and earned 16 state, four regional and two national championships. Sean Rush started his professional career playing for the Baltimore Bays and competed overseas as a member of six different teams. Santino Quaranta was a member of three Major League Soccer teams beginning with D.C. United, and has played for several United States National teams. Both attended high school in the Baltimore area.
The Pipeline Performance Center will include a 4,000 square foot turf indoor training facility that will be used for small group and individual training, team practices and camps. A separate 1,000 square foot area will contain equipment that will be utilized for strength and conditioning programs and physical therapy treatment, as well as classrooms and meeting space. The remaining portion of the facility will house administrative and operations staff.
Somerset Construction Company initiated development activities on Baltimore Crossroads, a 1,000-acre mixed-use business community that presently includes multiple real estate classes including multifamily product, in 2007 along with St. John Properties, Chesapeake Real Estate Group and First Industrial Realty Trust. Greenleigh at Crossroads was introduced as the next phase of the project in 2013 to reflect the "New Urbanism" principles of the project, with approximately 500 acres carved out for a range of housing options, mid-rise commercial office buildings and complimentary retail and hospitality amenities. St. John Properties and Somerset Construction recently rebranded the entire development with its new Greenleigh identity to reflect the cohesiveness of the large-scale project located near White Marsh in Middle River.
"Greenleigh stood out initially based on its location, nearly equidistant from our outdoor fields in Baltimore City and Harford County, and we immediately realized this was the ideal site to serve our club members throughout central Maryland," explained Sean Rush, President and Founder of Pipeline Soccer Club. "Upon touring the community, we understood the acceleration of housing underway that will feed our program in the future, as well as the rich supply of restaurants serving residents and business people. These amenities are the perfect place for parents to gather together while their children practice and train at our facility. In addition, the building space provided the flexibility and high ceilings needed to execute our build-out plan.
"Many of our club members reside within close proximity to Greenleigh and Baltimore County continues to be a fertile area for young soccer players," Rush added.
1310 Innovation Street is a single-story building comprising 42,120 square feet of flex/R&D space. It features 18-foot ceiling heights, dock and drive-in loading capabilities and a free surface parking lot. The building has been designed to achieve LEED certification, and offer an eco-friendly environment. 1310 Innovation Street is among 20 flex/R&D buildings planned for the mixed-used community.
"The Pipeline Performance Center represents just the type of community-based and youth-oriented use that will inject additional energy and consumer traffic to Greenleigh," stated Sean Doordan, Senior Vice President, Leasing & Acquisitions for St. John Properties. "The group has built a strong and recognized brand, and soccer remains among the most popular and fastest-growing sports in the country. We are extremely impressed with the entrepreneurial approach of the company and believe this provides another unique amenity to Greenleigh."
Current restaurants and retailers now open at Greenleigh include Michael's Café Raw Bar & Grill, Potomac Pizza Grill, Dunkin' Donuts, Royal Farms, Subway, Thai Rainbow, and Crossroads Wine & Spirits, among others. Also contained within the mixed-use community is the 120-key White Marsh Marriott SpringHill Suites hotel.