Chesapeake Pediatric Dental Group Chooses North Point Crossing for Fourth Practice Location in Greater Baltimore Area
Dental practice founded by Dr. Hakan Koymen selects retail center developed by St. John Properties, Inc. in Dundalk, joining locations in Anne Arundel, Baltimore and Harford Counties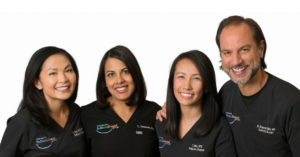 BALTIMORE, MD (August 12, 2021) – Chesapeake Pediatric Dental Group has chosen North Point Crossing, a retail center in Dundalk, as the site of its fourth practice location serving children in the greater Anne Arundel, Baltimore and Harford Counties joining offices in Abingdon, Hanover and Perry Hall. Established in 2005 by Dr. Hakan Koymen, Chesapeake Pediatric Dental Group signed a lease with St. John Properties, Inc. for space within the center located at 4009 North Point Boulevard. The practice will be staffed by two board certified pediatric dentists and support staff, and is expected to be operational in early 2022. Eric Llewellyn of St. John Properties represented the landlord and Charles Peacock of United Development Realty, represented the client in this transaction.
"Our continued and consistent growth over the past 15 years has necessitated expansion into the Essex and Dundalk area, a strategic move that will reduce travel times for certain patients now visiting our Perry Hall office," explained Dr. Hakan Koymen. "We are passionate about bringing access to quality dental care for children in under-served areas, and it is more than just providing good dentistry. By interacting with young children, we are able to educate them about the importance of proper nutrition to achieve not only good oral health, but overall health."
Chesapeake Pediatric Dental Group is comprised of eight full-time pediatric dentists — two of which will work from the new office on a rotating basis. According to Dr. Koymen, the site was chosen, in part, based on its location adjacent to an urgent care facility, coupled with its roadside visibility from North Point Boulevard (MD Route 151).
"Collaboration with nearby medical centers has worked well at our other locations when handling dental emergencies, and we expect the same at North Point Crossing. The center is close to Interstate 695 and contained within a recognized Enterprise Zone, so we expect continued growth in this area of Baltimore County," explained Dr. Koymen. "Among the things we like best about the space is that we are able to start fresh with a blank canvas and create the exact indoor environment that best represents our dentistry mission."
The founder of Chesapeake Pediatric Dental Group brings a background in Development Psychology to his practice. "We base our treatment on the age and cognitive development of each child to eliminate some of the fear associated with visiting a dentist," Dr. Koymen explained. "During an infant or toddler's first visit to the practice, we may begin with a simple oral exam. This will slowly segue into doing increasingly more to gain the confidence and trust of the patient. The goal is to always do what is age appropriate and create positive interactions with dentistry."
North Point Crossing is an 8,125 square foot retail center that is 100% leased to Chesapeake Pediatric Dental Group and Express Care Urgent Care Center. More than 17,000 vehicles pass the site on a daily basis and more than 83,000 consumers reside within a three-mile radius of the center, with an average household income approaching $67,000. The development, which includes a 1.3-acre pad site that is available for lease, is situated adjacent to The Townes at North Point, a 108-unit townhome community.
"The two tenants within North Point Crossing represent complementary uses and offer high-quality and necessary health care services to the local community," explained Bill Holzman, Vice President, Retail Leasing for St. John Properties. "Chesapeake Pediatric Dental Group is comprised of highly-dedicated and passionate healthcare professionals, and its track record of success makes the practice a welcome addition."
Founded in 1971, St. John Properties, Inc. is one of the Mid-Atlantic's largest privately held commercial real estate firms. The company is distinguished by its commitment to customer service, achievements in green building, and top-rated workplace culture. Throughout St. John Properties' 50-year history, the company has developed more than 21 million square feet of Flex/R&D, Office, Retail and Warehouse space serving more than 2,500 clients in Maryland, Colorado, Louisiana, Nevada, Pennsylvania, Virginia, Utah, and Wisconsin. For more information about the company, visit sjp.mu9b0uf9-liquidwebsites.com