Why Lease Flex Space in Baltimore?

Baltimore, right in the middle of the East Coast, is really stepping up its game, especially when it comes to office spaces. As businesses change to keep up with today's fast-paced world, the old idea of what an office looks like is changing, too. St. John Properties' signature flex buildings offer spaces that are flexible, practical, and cost efficient.

So, why are flex buildings so popular in Baltimore? We'll explain why renting flex space in the Baltimore area is a smart choice and where office trends are headed.
What is Flex Space?
St. John Properties typically defines flex as a single-story commercial building that includes both office and warehouse components. The buildings feature generous, welcoming landscaping and large windows in the front, and often includes a rear drive-in or dock-high loading door, allowing for direct shipping and receiving to the premises. 

Flex buildings offer tenants direct entry with 24-hour access, and generally have light industrial zoning, making them ideal for an array of uses including: general office, medical offices, retail, wholesale, carry-out delis, churches, schools, day care centers, recreation centers, warehousing, manufacturing, scientific research facilities, information technology and many more.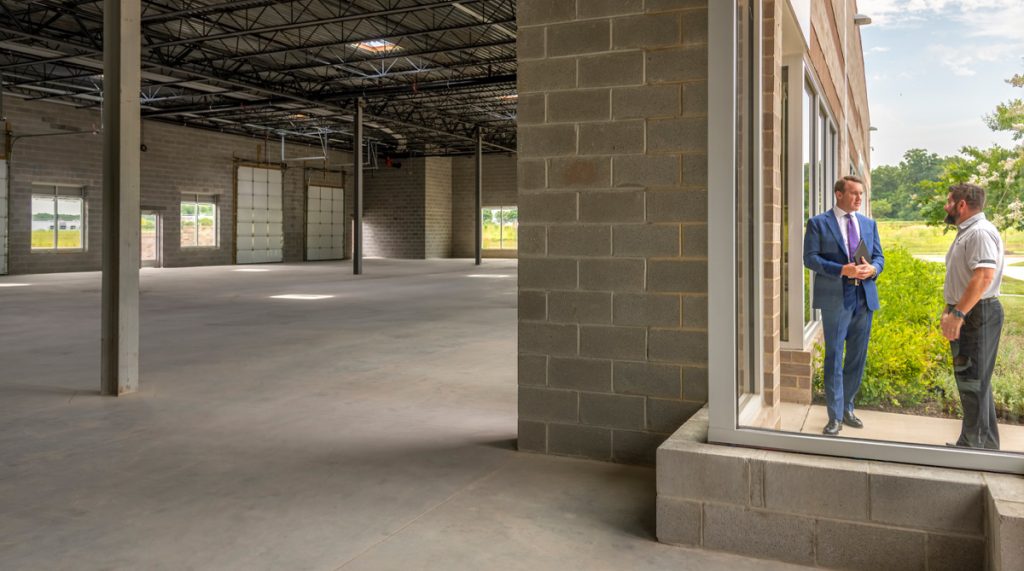 What are the Advantages of a Flex Space?
Flex buildings offer companies the convenient option to centralize their office staff alongside their warehouse or production operations within a single premises. This arrangement fosters enhanced teamwork among employees while addressing the drawbacks associated with maintaining separate office and warehouse sites. Moreover, these buildings present a cost-effective alternative to multi-story office buildings. 

Furthermore, given Baltimore's status as a port city, flex buildings can serve as strategic hubs for enterprises necessitating extensive distribution networks. Proximity to the port enhances accessibility and streamlines the movement of goods, making these buildings advantageous for businesses engaged in distribution and logistics.
What Types of Businesses are Best Suited for Flex Space?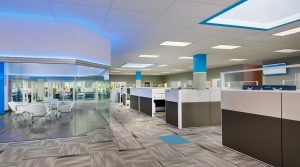 Hybrid Operations: Office and Warehouse Combination
Businesses in this category have a critical need for both office space and warehouse facilities, often requiring a cohesive space to manage administrative tasks alongside storage, production, or distribution activities. 

Flex buildings merge these functions, enabling companies to streamline operations and improve collaboration. 

Startups can efficiently manage their administrative needs while prototyping and manufacturing products. E-commerce retailers benefit from having a central location for order processing, inventory management, and shipping. 

Manufacturers and distribution centers can optimize their supply chain by having administrative staff work in close proximity to their production and distribution processes. The convenience of shared spaces like these can eliminate inefficiencies associated with operating separate office and warehouse locations.
---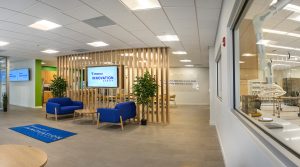 Medical/Pharmaceutical Use
Medical and pharmaceutical companies can significantly benefit from flex buildings, as these spaces seamlessly integrate research labs with administrative offices. This close proximity fosters rapid communication between researchers and management, expediting decision-making and innovation. 

Moreover, the adaptable nature of flex buildings allows for easy reconfiguration to accommodate evolving research needs, new equipment, or expanded teams. Whether it's for long-term projects or short-term research endeavors, flex spaces offer a versatile environment that can be tailored to the dynamic requirements of the medical and pharmaceutical industry.
---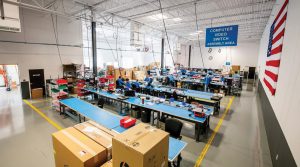 Distribution and Logistics Hubs
Businesses heavily involved in the movement of goods find flex spaces strategically advantageous due to their direct access to loading docks and shipping areas. Distribution centers can efficiently manage inbound and outbound shipments, optimizing the flow of products. 

Logistics companies benefit from a centralized location for coordinating routes, schedules, and transportation operations. Event management companies can store event equipment and supplies in the warehouse area, while using the office space for planning and client interactions. 

Specialized retail businesses can establish a hub for receiving, storing, and dispatching products. The accessibility and layout of flex spaces enhance the efficiency and organization of distribution and logistics operations.
The Cost Advantage of Flex Space
Dual Functionality
Space Optimization: Flex spaces are designed to serve multiple purposes. This means that businesses can optimize the use of every square foot, getting more value out of their lease. Instead of renting separate spaces for different functions, a company can consolidate its operations, leading to potential cost savings.
Logistical Savings: Having both office and warehouse or production functions in one location can reduce transportation and logistical costs. There's no need to transport goods or materials between separate locations, which can save both time and money.
Efficiency and Collaboration
Enhanced Productivity: With different departments or functions housed in the same location, there's a natural boost in collaboration. This can lead to faster problem-solving, quicker decision-making, and potentially increased revenue.
Reduced Communication Barriers: Physical proximity can reduce communication lags. Instead of waiting for emails or scheduling meetings, team members can have face-to-face interactions, leading to quicker resolutions and reduced operational delays.
Adaptability:
Diverse Use Cases: The design of flex buildings allows for a range of uses, from traditional office setups to light industrial activities. This flexibility means that if a business diversifies its operations, the space can be adjusted without incurring the costs of moving to a new location or leasing additional space.
In essence, the inherent design and structure of flex buildings offer businesses a range of cost advantages, from direct savings in rent to operational efficiencies.
---
Takeaway
Flex buildings have gained significant popularity due to their adaptability, cost-efficiency, and fostering of collaboration. These buildings seamlessly combine office and warehouse functions, benefiting businesses across various sectors.

Startups, e-commerce, medical/pharmaceutical, distribution, and logistics companies find these buildings ideal for optimizing operations and reducing costs. 

The dual functionality of flex buildings, coupled with logistical savings and increased efficiency, provides a compelling case for businesses to consider leasing these versatile environments. 

With the ability to scale and adapt to changing needs, flex buildings in Baltimore offer a glimpse into the future of work environments that prioritize both innovation and financial effectiveness.

Works Cited
Novick, Ilana. "What Is Industrial Zoning? Light vs Heavy Industrial Zones." Lev, November 10, 2021. Link.
Zommick McMahon. "Everything You Need to Know About Flex Space." Zommick McMahon Commercial Real Estate, Inc. Link.
Maryland Department of Commerce. "Distribution, Warehouse & Logistics." Maryland Business. Link.
Saltbox. "What Is Flex Space: The Benefits of Flexible Warehousing for Ecommerce Operations." January 5, 2022. Link.
HBRE. "Flex Space Benefits." HBRE, 2020. Link.
StrongProject. "What is Flex Office Space?" Modern Office Furniture. Link.
SmarTEH. "8 Practical Ways to Reduce Transportation Logistics Costs." SmarTEH, 2023. Link.
Tolj, Mike. "What Is Flex Space, and Why Should You Consider It for Your Business?" Tolj Commercial. Link.