How to Lease Office Space in Maryland

Leasing office space in Maryland can be an exciting venture, whether you're a budding entrepreneur or an established business looking to expand or relocate. The Old Line State offers a diverse range of commercial properties, from bustling urban centers like Baltimore to quieter suburban areas. Here's a step-by-step guide to help you navigate the process of leasing office space in Maryland.
Determine Your Needs
Before you start your search, it's essential to identify your specific needs:
---
Size 
When embarking on the journey to lease office space, understanding your business's specific requirements is paramount. Start by considering the size and layout of the space. The number of employees you currently have, coupled with anticipated future hires, will dictate the kind of environment you need.

St. John Properties' accredited in-house space planning team provides complimentary, no-obligation interior design services for our clients. They can make the most efficient use of your space and maximize your project budget, while creating the perfect environment for your business.

Perhaps an open-plan layout fosters collaboration in your industry, or maybe individual offices are more suitable for focused tasks. Beyond just desks and workstations, think about the auxiliary spaces like meeting rooms equipped for presentations, a welcoming reception area for visitors, and storage spaces for equipment and files.

Don't forget the importance of break areas; a dedicated space for relaxation and meals can significantly boost team morale.
---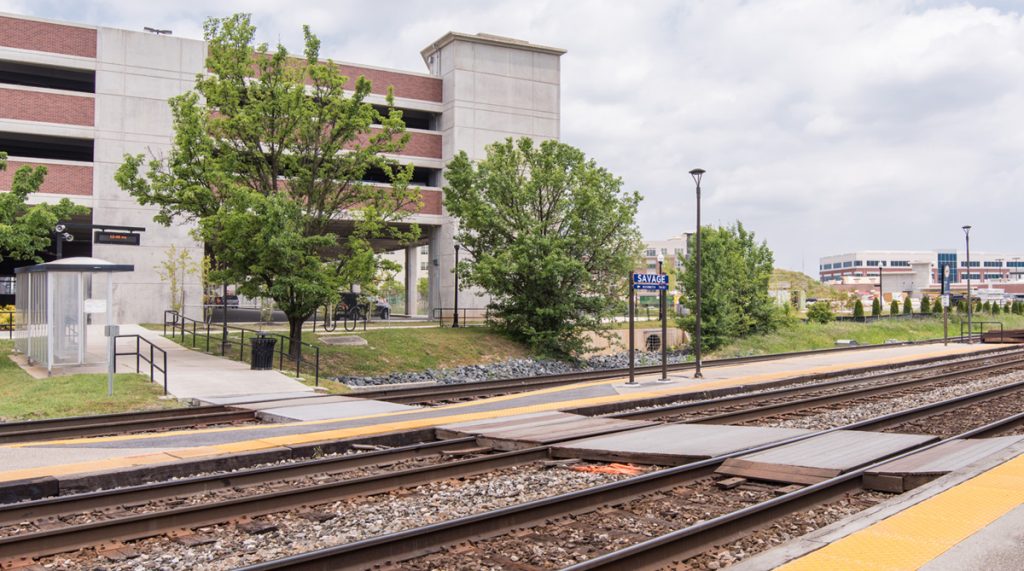 Location
Location is a pivotal factor, especially in a diverse state like Maryland. If you're aiming for a bustling urban environment, areas in downtown Baltimore, such as the Inner Harbor or Federal Hill, offer a dynamic atmosphere with a mix of businesses and cultural spots. 

For those in the tech or defense sectors, proximity to BWI Airport, Fort Meade or Aberdeen Proving Ground might be beneficial. On the other hand, Owings Mills, Hunt Valley, and Greenleigh in Baltimore County, can be attractive for businesses seeking a balance between city accessibility and suburban tranquility. 

If you're in the medical or research fields, being near institutions like Johns Hopkins in Baltimore or the NIH in Bethesda could be advantageous.

Beyond just the immediate surroundings, consider transport links. Being near major highways like I-95 or close to transit hubs such as the MARC train stations can be a boon for commuting employees and visiting clients. 

The neighborhood's character is crucial too; areas like Frederick or Maple Lawn in Howard County offer family-friendly environments, green spaces, and a range of amenities that can be attractive for potential employees.

In Maryland, with its mix of urban centers, suburban communities, and rural areas, finding the right location means aligning your business's needs with the unique offerings of each neighborhood or region.
---
Budget
Budgeting is often the most challenging aspect. While determining the monthly rent is straightforward, it's the ancillary costs that can catch you off guard. Factor in utilities, potential renovation costs, and IT setup. 

Some leases might include certain utilities, but others could leave those expenses entirely up to you. And while considering the immediate costs, think long-term as well. If you foresee significant growth in the coming years, does the space offer the flexibility to expand? St. John Properties' speculative building strategy ensures you'll be able to find space within our expansive portfolio as your business grows.

The duration of the lease plays into this too; shorter leases might offer more adaptability, but longer ones could provide the stability a growing company needs. 
Engage a St. John Properties Leasing Agent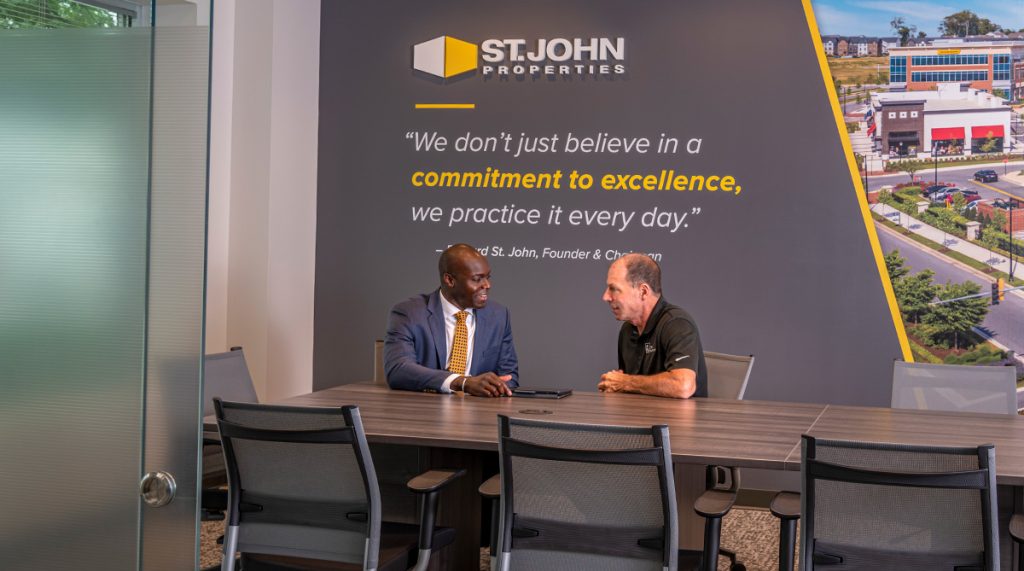 Navigating the commercial real estate landscape can be a daunting task, especially if you're unfamiliar with the intricacies of the market. While some businesses might venture into this territory on their own, the expertise of a commercial real estate agent can be a game-changer.

A commercial real estate leasing agent has a vast network and access to listings that might not be publicly available. This means they can help you find properties that perfectly match your criteria, saving you time and effort in the search process. Whether you're looking for a modern open-plan office or a quaint space, they can streamline the process, ensuring you see only the properties that align with your vision.

Furthermore, Maryland's commercial real estate market is ever-evolving. A St. John Properties agent can provide insights into current market trends, ensuring you're making decisions based on the latest data. They can also guide you through local regulations and zoning laws, ensuring your chosen space is compliant with all necessary requirements.

In essence, engaging a commercial real estate agent is not just about finding a space; it's about finding the right space under the best terms, with the peace of mind that every detail has been considered.
Ready to embark on your office space journey in Maryland?
Don't navigate the complex waters of commercial real estate alone. Contact St. John Properties for unparalleled expertise and a partner who understands your unique needs. Let us be your guide to the perfect office space for your business.
Visit Potential Spaces
After narrowing down a list of potential properties, the next pivotal step is to schedule on-site visits. Physically touring a space offers insights that photos or descriptions can't capture, allowing you to gauge if it truly aligns with your business's needs and ethos.
---
Accessibility Matters
Consider how easy it is for both employees and clients to reach the location. Is it well-connected by interconnecting roadways? 

---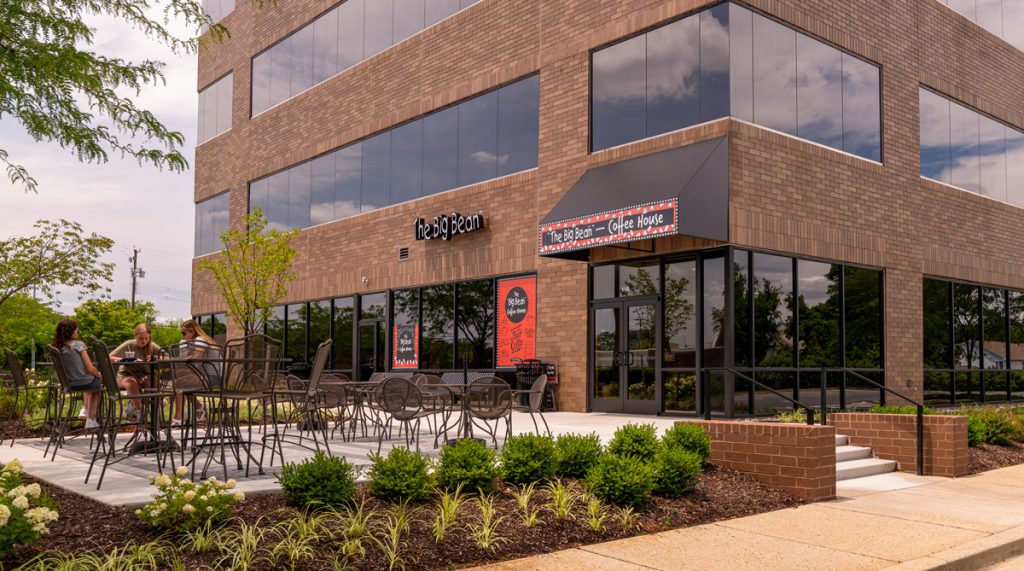 Amenities – Beyond Just the Office
The immediate surroundings of your potential office play a crucial role in day-to-day operations. Check for parking facilities – is there ample space for both employees and visitors? All St. John Properties business communities include free onsite surface parking lots adjacent to buildings, and multi-story office buildings feature electric vehicle charging stations.

In urban areas of Maryland, like Baltimore or Towson, parking can be a premium, so ensure it's both available and affordable. Security is another paramount concern. A secure building with features like surveillance cameras, security personnel, or access controls ensures peace of mind for you and your team.

Moreover, think about the conveniences your team might appreciate. Are there places nearby to grab lunch or coffee? Maybe a gym or a park where they can take a break? Such amenities can significantly enhance the work experience, aiding in both employee satisfaction and retention.
Understand the Lease Terms
In Maryland's commercial real estate scene, leases vary, with the main types being gross, net, and modified gross leases:
Gross Lease: Tenants pay a set monthly rent; landlords cover property taxes, insurance, and maintenance.
Net Lease: Tenants pay base rent plus some operating expenses, like property taxes or maintenance. Variations include single, double, and triple net leases.
Modified Gross Lease: A blend of the above, where tenants pay base rent and specific expenses, with the rest covered by the landlord.
---
When Considering a Lease, Focus on:
Duration and Renewal: Understand the lease's length and any extension terms to ensure business continuity.
Maintenance Responsibilities: Clarify who handles repairs to avoid unexpected costs.
Space Modifications: Know any restrictions if you plan to customize the space, from interior changes to signage.
In essence, when seeking commercial space in Maryland, a clear grasp of lease terms can prevent unforeseen challenges and ensure a beneficial agreement for your business.
Prepare the Space
After signing a lease, personalizing the space to align with your business's needs and brand becomes paramount. This transformation, often termed as a 'fit-out,' encompasses several facets. A robust IT infrastructure, including networking, server setups, and cybersecurity measures, forms the digital backbone. 

As your company begins the lease process, St. John Properties' in-house space planning and design team works directly with you to build your space exactly to your specifications and within your budget. 

The physical layout, from ergonomic workstations to collaboration spaces, plays a pivotal role in employee productivity and well-being. Moreover, the office's aesthetic should resonate with your brand, using a consistent color palette, branding elements, and thematic designs. In essence, a well-executed fit-out not only ensures functionality but also creates an environment that mirrors your company's values and culture.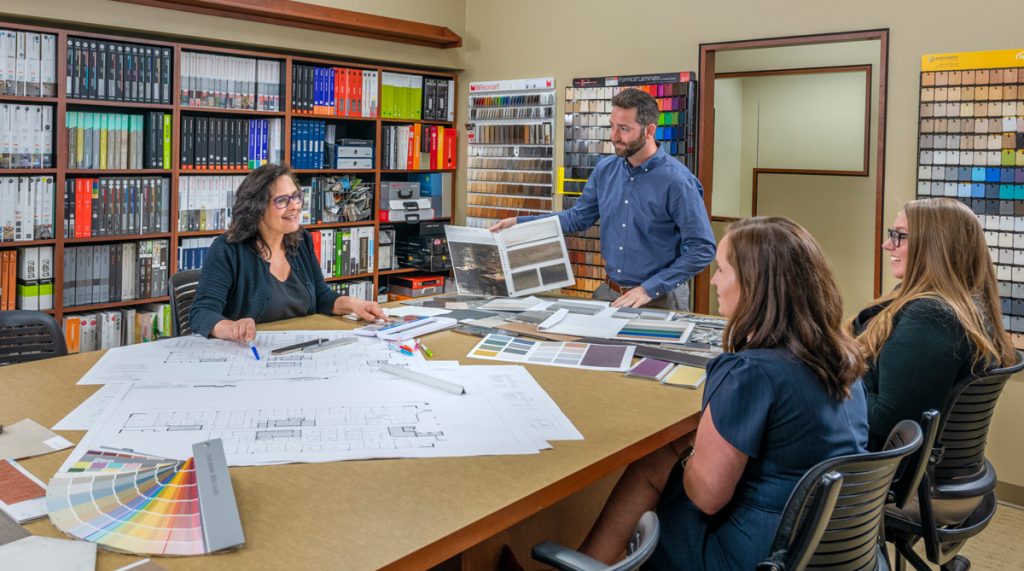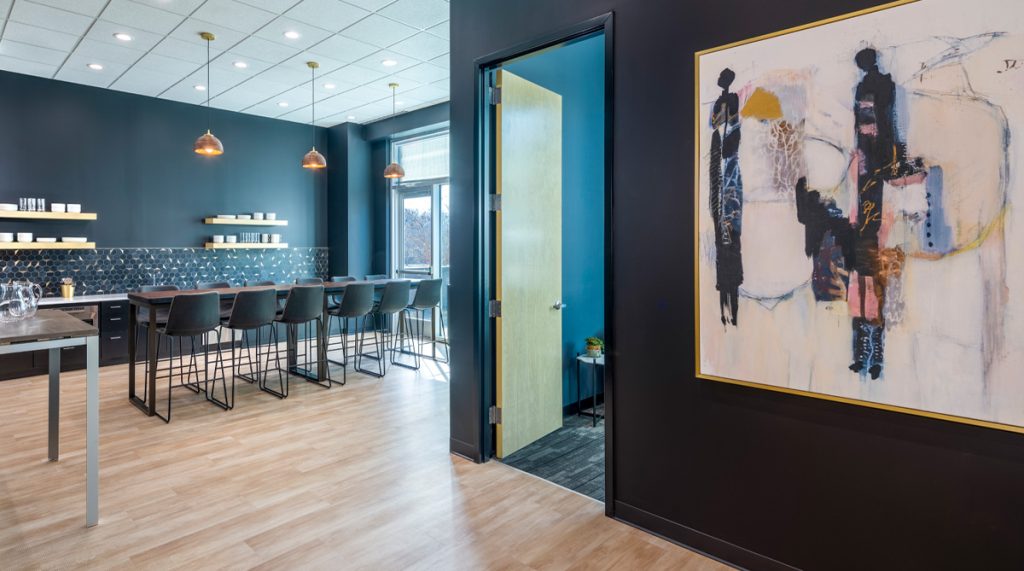 In Conclusion
Leasing office space in Maryland is a significant commitment, but with careful planning and consideration, you can find the perfect space for your business. Remember to leverage local expertise, be clear about your needs, and always read the fine print before signing on the dotted line. With the right approach, your new Maryland office will be a place of productivity and growth for years to come.

Works Cited
"How to right-size your office space: learn more about space planning." FlowScape Solutions, 25 May 2023, flowscapesolutions.com.
"The Advantages and Disadvantages of Open Plan Office Layouts." Halkin, halkin.com.
"Positive Effects of Having a Work Break Room." Chron Contributor, Work – Chron.com, 4 August 2020, work.chron.com.
"Offering renters longer leases could improve their financial health and happiness." Brookings, brookings.edu.
"Commercial Real Estate: How Much Rent Can I Afford?" Commercial 1 Brokers, commercialonebrokers.com.
"Commercial Property for Sale: How a Commercial Real Estate Agent Can Help You." The Fine Living Group, thefinelivinggroup.com.
Maryland Department of Natural Resources. "County Zoning Guide." dnr.maryland.gov.
"How To Evaluate Commercial Property for Your Business." Rocket Lawyer, rocketlawyer.com.
"How to Run a Commute Analysis for an Office Relocation." TravelTime, 7/12/21, Eric van Rees, traveltime.com.
"What Is a Gross Lease, How It Works, Types, Pros & Cons." Investopedia, investopedia.com.
"Single vs. Double vs. Triple Net Leases: What's the Difference?" Investopedia, investopedia.com.
"What is a Modified Gross Lease & How Does It Work?" PropertyMetrics, propertymetrics.com.