Verizon Wireless Takes 61,000 SF At Annapolis Junction Town Center
GlobeSt.com  |  Erika Morphy
"The presence of Verizon Wireless within Annapolis Junction Town Center will inject energy, create momentum and significantly impact the economic well-being of the surrounding area."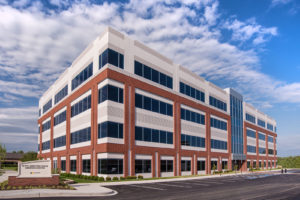 ANNAPOLIS, MD–Verizon Wireless has signed a lease for 61,000 square feet of space within 10170 Junction Dr., a four-story, 100,000-square foot office building located within Annapolis Junction Town Center. Matt Lenihan with St. John Properties handled negotiations on behalf of the landlord, and Amy Perlman, David Fields and Alec Mitchell of CBRE represented Verizon Wireless.
Annapolis Junction Town Center is a mixed-use project next to the Savage MARC Station in Howard County being developed by St. John Properties and Somerset Construction Co. The project currently includes 5,420 square feet of retail space and a 700-space intermodal commuter parking garage, with 14,000 square feet of additional retail also planned for the development. Last summer the project delivered 416-unit The Residences at Annapolis Junction. "The presence of Verizon Wireless within Annapolis Junction Town Center will inject energy, create momentum and significantly impact the economic well-being of the surrounding area," said Richard Williamson, Senior Vice President of Leasing and Marketing for St. John Properties in a prepared statement.
The building Verizon Wireless will occupy was developed to satisfy LEED Gold requirements for core and shell. It also features an exterior of brick and glass and 25,000 square foot floorplates. Baltimore Coffee and Tea Co. has leased space within the retail component for a café and coffee shop.
http://www.globest.com/2018/02/22/verizon-wireless-takes-61000-sf-at-annapolis-junction-town-center/