Congratulations to two of our Maple Lawn clients, Ellison Anne Williams of Enveil and Mike Janke & Bob Ackerman of DataTribe, who were named 2018 Tech10 Honorees by the Baltimore Business Journal:
Name:
Ellison Anne Williams
Education:
M.S. in mathematics, University of South Carolina-Columbia; M.S. in computer science, Nova Southeastern University; Ph.D. in mathematics, North Carolina State University
Age:
Declined to disclose
Title:
CEO and founder
Company:
Enveil
What's the biggest thing the Greater Baltimore tech industry needs to continue to grow? "Foster entrepreneurship"
Ellison Anne Williams won't tell me her age. She questions why anyone would want to know.
She's also a bit reticent to talk about what she does outside of work. "All kinds of things," she says without giving up a single detail.
Her hesitation to answer seemingly basic questions would seem unusual if not for her background. Williams, a mathematician, spent 12 years at the super-secret National Security Agency.
"I think it's bred into me at this point," Williams says of her own reluctance to spill. "Things go in writing and they can't be taken back."
Surprisingly, Williams is more than willing to talk about her time at the intelligence agency and how becoming an "intrapraneur" there allowed her to pursue being an entrepreneur on the outside. She left to create Enveil, a cybersecurity firm that focuses on data encryption. The Fulton startup received $1 million in seed money from DataTribe, a local cyber incubator concept that aims to commercialize ideas coming out of the intelligence community.
And late last year, Enveil received another $4 million from Thomson Reuters, a USAA affiliate as well as Bloomberg Beta and DataTribe to help it ramp up commercialization of its products.
"Starting my own company is something I always wanted to do as long as I can remember," Williams said. "It was something I wanted to do when I was a little girl. I come from a long line of entrepreneurs from both sides of my family."
Williams' family business was in real estate and development — a far cry from cybersecurity.
But the South Carolina native says the two industries share a common theme — solving a big problem by building something new.
"In cybersecurity, that solution happens to be technical – writing code to create it,'' she said. "In real estate, you have a big lot that's being underutilized. What you're creating is something from concrete and steel and brick-and-mortar. At the end of the day, you've created something out of nothing."
Williams is enjoying building Enveil but says she doesn't want to grow too quickly. The company now employs 15 people.
"My goal is to stay as lean as we can as long as we can," she said.
As for an exit strategy, she said it's too soon to talk about potential scenarios. "My goal is to build as much we can — to build value," she said.
"I love building and creating things," she added. "That includes companies. I definitely plan to be a serial entrepreneur from now on."
Williams doesn't hold back when you ask her about what she likes about running Enveil.
"I joke that I work 27 hours a day and love every minute of it," she said. "I think it's a great privilege every single day and a blessing. I don't take it for granted."
— Joanna Sullivan
---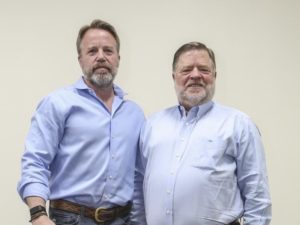 Name:
Mike Janke & Bob Ackerman
Age:
50, 62
Title:
Co-founders
Company:
DataTribe
What's the biggest thing the Greater Baltimore tech industry needs to continue to grow?
Janke: "A coordinated message across Maryland. Especially in cyber, we have the talent here, but the counties are too often competing against each other. It's about the big picture. We need to have one message that starts at the top: Maryland is where cyber works."
Mike Janke and Bob Ackerman think Maryland has a pretty good shot at becoming the cyber business capital of the United States — or even the world. But it has a lot more work to do to get there.
That's why they launched DataTribe, a Fulton startup studio that aims to take engineers and technologies coming out of the federal intelligence sector and build commercial cyber companies around them. DataTribe provides incubation services and a few million in seed funding to get these new companies off the ground.
In the past two years, the two have helped create seven companies and 109 new jobs in Maryland.
"We've got tons of talent and tech, but things here have mostly been focused on government, especially when it comes to cybersecurity," Janke said. "To make more successful commercial companies and make Maryland into the true cyber hub we know it can be, we have to build up the ecosystem ourselves. That's part of what we're trying to do."
Ackerman is also the founder of California-based investment firm AllegisCyber. He recently opened a Maryland office for the firm, and is working with DataTribe to give young cyber companies the capital and guidance they need to grow.
The DataTribe founders think Maryland is best poised to lead the cyber economy of the future for one main reason: its unparalleled talent pool.
Janke pointed out that the Maryland area is home to about three times as many cyber engineers as the rest of the country combined. It also hosts 17 designated National Centers of Academic Excellence in Cyber Defense, as well as government agencies like U.S. Cyber Command and the National Security Agency.
"To do this in Maryland was a deliberate choice. The engineering talent pool is the largest and most qualified in the world, especially with all of the people coming out of the information security sector," Ackerman said. "This is where the true cyber expertise exists and if you're trying to build companies of the future, you have to be where the best resources are."
He said DataTribe aims to be a catalyst for strengthening Maryland's cyber ecosystem, but it will also take a lot of help from state officials, educational partners and private industry to move the needle.