Super heroes take to Swatara Township streets to support police department activities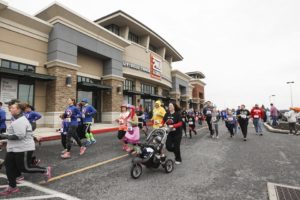 PennLive | Shelly Stallsmith
Harrisburg, PA (November 1, 2016) — Hundreds of runners, many in costume, participated in Sunday's 5K Hero Run that started and ended at the Harrisburg Mall.
The Swatara Township Police Department hosted the race to benefit the Keystone Wounded Warriors, which helps veterans residing in or who have ties to Pennsylvania; COPS for K.O.P.S., which supports the children of the state's fallen police officers; and the department's crime prevention fund.
Participants were encouraged to dress in costumes depicting their favorite super hero, and many did that. Super Man, Captain America and the Incredible Hulk were among the super heroes in attendance Sunday morning.
Prizes were given to the overall fastest men and women, as well as top finishers in a variety of age groups. PennLive will post those results here as soon as they become available.